Do you want to go on an exotic seaside holiday in spring and don't know where to go? Thanks to our Sunheron.com app, you can choose your dream destination! In this article, we've put together a list of destinations with the world's most beautiful beaches that you must visit in spring. We've based our list on weather data and beach ratings, so you don't have to worry about getting off on the wrong foot. You'll enjoy sunshine, clear waters, relaxation, romantic sunsets and even the perfect snorkelling.
Here you can find destinations with the desired weather:
Grace Bay Beach in the Turks and Caicos Islands in the Caribbean is rated one of the most beautiful beaches in the world. The beach is over 19 kilometres long and is surrounded by azure blue sea and white sand. The waters are warm and clear, making it an ideal place for diving and snorkelling.
Springtime in the Turks and Caicos Islands runs from March to May and is the perfect time for your holiday. The weather gradually becomes warmer and sunnier with average air temperatures between 25 –⁠ 30 °C. You'll enjoy waters around 26 °C and an average of 7 hours of sunshine a day. Due to the light winds, the sea is mostly calm. Rainfall is minimal, but occasional thunderstorms can occur, which are usually short-lived and do not bring significant weather fluctuations.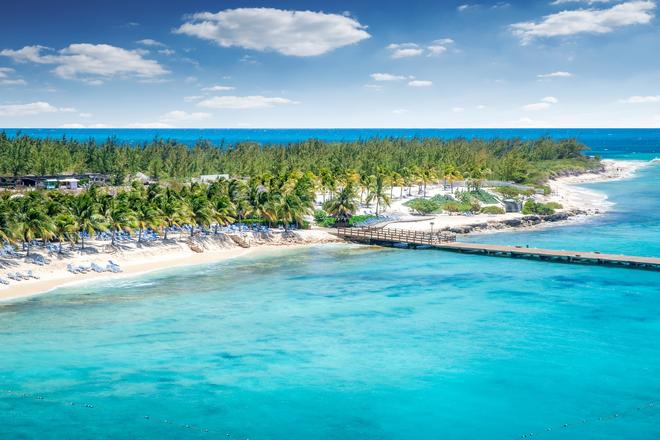 Grace Bay Beach is surrounded by many resorts and luxury hotels that offer first class accommodation and a wide range of services. These hotels often feature restaurants, bars and swimming pools that provide excellent opportunities for relaxation. Despite the beach being very popular, there are still many quiet places to enjoy privacy and tranquillity, romantic walks and sunset watching.
If you're looking for a more active holiday, Grace Bay Beach also offers many opportunities for water sports such as windsurfing, kitesurfing, paddleboarding and jetskiing. You can bring home some of the handmade souvenirs that can be purchased at the souvenir shops right on the beach.
White sand, azure blue sea, clean and clear water – these are the stunning exotic beaches of Eagle Beach and Palm Beach on the island of Aruba in the Caribbean. The island of Aruba in the southern Caribbean is part of the Kingdom of the Netherlands and is located about 25 km northwest off the coast of Venezuela.
Aruba is known for its sunny and warm climate all year round. In spring, the weather in Aruba is usually very pleasant with high temperatures and low humidity. The average air temperature is around 30 °C during the day and 24 °C at night. The water temperature is usually around 26 °C. Spring is one of the dry seasons, so you are unlikely to encounter rain or thunderstorms.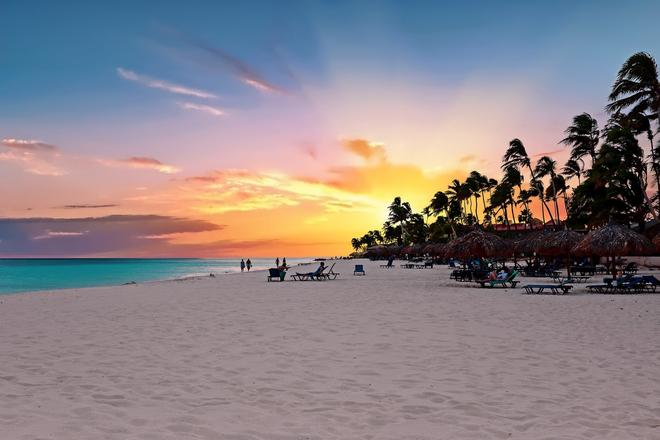 Eagle Beach is about 2 kilometres long and lies on the west coast of the island, near the capital Oranjestad. Palm Beach is longer (about 3 km) than Eagle Beach and also more touristy. You will find more hotels, restaurants, bars and activities here, but also more tourists than on Eagle Beach. Palm Beach is the windier of the two beaches, so don't hesitate to try windsurfing and kitesurfing. Eagle Beach is more moderate, making it ideal for swimming and diving. Overall, Palm Beach is ideal for those looking for more action and fun, while Eagle Beach is perfect for those looking for a more peaceful and relaxing vacation.
Don't forget to sample the local specialties such as Balashi – Aruban beer, rum cocktails, seafood, or traditional Aruban dishes such as Keshi Yena – stuffed cheese and meat, or Aruban Guernsey – a traditional Caribbean dish of braised chicken or beef with beans and rice.
I'm sure you've heard of Varadero Beach in the northern part of West Cuba on the Hicacos Peninsula. One of the most famous beaches in the Caribbean, it's over 20 kilometres long and attracts tourists from all over the world, and also filmmakers who shoot here for its beautiful scenery and exotic setting (such as Steven Spielberg's 1997 film Amistad).
In spring (March to May), Cuba has sunny and drier weather and temperatures gradually increase. From March and April, with average temperatures between 27 and 29 °C, while in May they rise to 30 °C. Water temperatures in the Caribbean Sea also gradually rise during spring, reaching average temperatures of around 27 °C in May.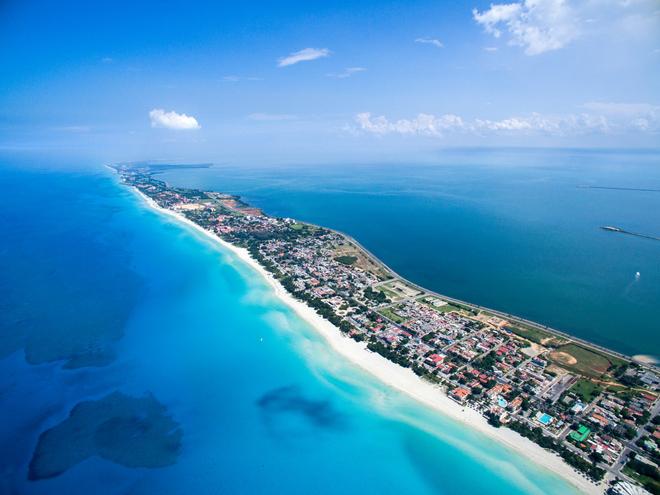 Varadero Beach boasts beautiful white sands and turquoise water that is ideal for swimming, diving and other water sports. There are many hotels along the beach, including luxury resorts that offer all-inclusive services and a range of activities for tourists. Varadero Beach is also a popular destination for golf enthusiasts, who can visit some of the best golf courses in the Caribbean.
Varadero Beach is close to Varahicacos National Park, which offers visitors the opportunity to walk along hiking trails, hiking and animal watching. You can also relax and sunbathe on a small beach with white sand and blue water there.
The El Nido area, with its eponymous centre located in the northern part of the island of Palawan, is one of the most popular areas in the Philippines. If you are looking for breathtaking beaches with clear blue water, awesome snorkeling, great atmosphere and much more, then El Nido should definitely make it to your Philippines itinerary.
In spring (March to May), the weather is usually hot and humid with average temperatures around 30 °C and night temperatures around 24 °C. Occasional rain and thunderstorms can also occur during this period. Bring an umbrella just in case. On average, you will enjoy 8 hours of sunshine a day.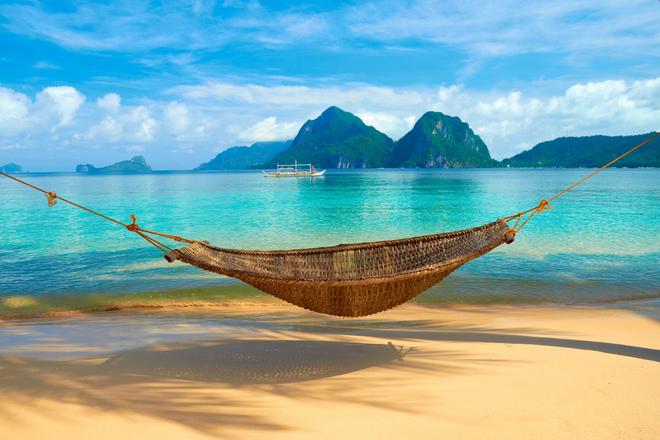 El Nido has many beautiful beaches, we recommend Nacpan Beach for example, with its white sand, turquoise water and impressive cliffs in the background. Las Cabanas Beach, on the other hand, beckons with spectacular sunset views and offers a range of activities, including snorkelling and paddleboarding. Corong Corong Beach boasts a peaceful and pleasant setting and spectacular views of Bacuit Bay, and is also the starting point for many excursions to the surrounding islands and beaches of the El Nido area. On secluded Seven Commandos Beach, stay in small bungalows and cottages with sea views and enjoy relaxation and privacy. There is simply something for everyone in El Nido.
Tulum is a small town on the Caribbean coast of Mexico's Yucatán Peninsula. Located near the famous Mayan ruins, you'll be able to see the remains of a Mayan city and sanctuary right on the beach. In Tulum, you'll find beautiful white sand beaches and turquoise waters with breathtaking views of the Caribbean, as well as a variety of tourist attractions and activities.
During spring, between March and May, the weather in Tulum is usually very pleasant and sunny. Temperatures tend to average around 30 °C during the day and 20 – 25 °C at night. There is usually not much rainfall and the water is warm (around 25 °C on average), making spring in Tulum an ideal time for beach vacations and various outdoor activities.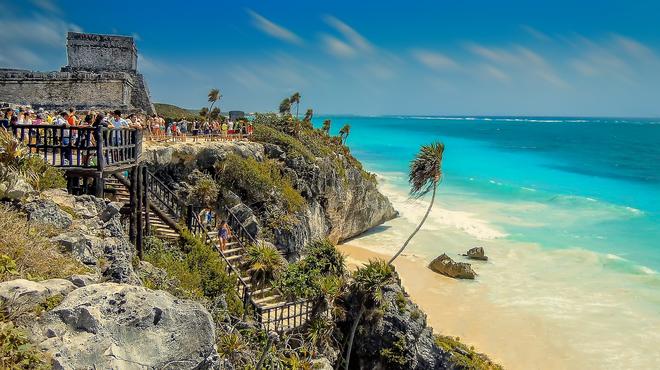 As well as exploring the Mayan ruins, you can visit the local cenotes – natural karst caves with clear water, ideal for snorkelling and diving. The Gran Cenote is very famous. What are the most famous Tulum beaches? Playa Paraíso, Playa Ruinas located along the Mayan ruins, Playa Santa Fe or the more distant Playa Akumal with great conditions for snorkelling and sea turtle watching.
Tulum is a popular tourist destination, especially for those looking for a quiet beach holiday while immersing themselves in the history and culture of the ancient Mayan civilisations.
The Phi Phi Islands are an amazing collection of islands with steep limestone cliffs in the Andaman Sea in southern Thailand. The turquoise waters and vibrant coral reefs make them a paradise for beach lovers and snorkelers. Spring on Koh Phi Phi falls between March and May. During this time the weather is usually very warm and sunny with high temperatures. The amount of rainfall gradually increases, especially in May when the rainy season sets in. Average temperatures tend to be over 30 °C during the day and around 24 °C at night. The sea is usually very warm (up to 29 °C on average) and calm, ideal for diving and snorkelling.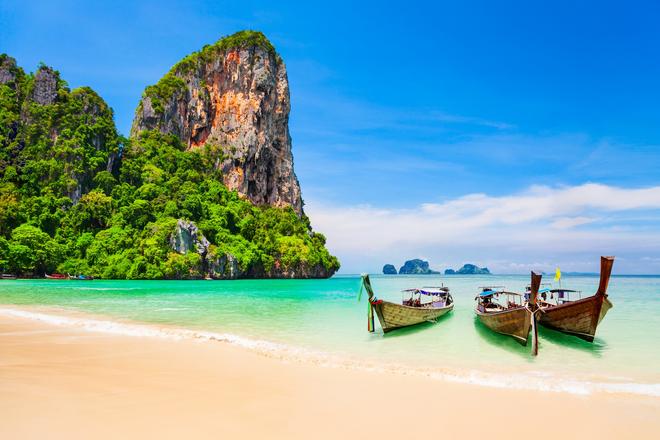 Phi Phi Don is the largest and most populated island, offering many accommodation options, restaurants and bars. It has beautiful beaches with white sand and turquoise water where you can dive, snorkel or relax. One of the most famous and beautiful is undoubtedly Long Beach, where you can enjoy, among other things, breathtaking sunsets with a cocktail in hand and views of the beautiful scenery. Other beaches on Phi Phi Don include Laem Thong Beach, Loh Dalum Beach and the more secluded Monkey Beach, which is only accessible by boat and is worth a visit if you want to get away from the crowds and enjoy the peace and quiet (and the presence of wild monkeys).
On the smaller island of Phi Phi Leh is the beautiful beach bay of Maya Bay, which was featured in the 2000 film "The Beach" with Leonardo DiCaprio. The beach is surrounded by high cliffs that create beautiful scenery and also protect the bay from the wind and waves. Unfortunately, due to too many visitors and the negative effects of tourism, the beach was closed to the public in 2018 in order to restore the natural environment and the abundance of coral and fish in the area. According to the latest information, the bay should be open to tourists again intermittently from January 2022, but with strict rules and a limit of 3,000 visitors per day.