The landscape is made up of sharp mountain peaks and wide valleys shaped by glaciers. Although at first glance the route passes through a high mountain environment, the altitude will certainly not limit you here. In fact, the highest mountain in Swedish Lapland exceeds the two-thousand-metre mark by just 110 metres. Nevertheless, its foothills are glaciated and the climb is not as easy as it might seem at first glance.
We are embarking on a seven-day hike at the very beginning of the long-distance route, at the most popular section of Abisko –⁠ Nikkaluokta with a detour to Sweden's highest mountain, Kebnekaise. This 125 km long section of the Kungsleden can be easily tackled by less fit hikers. It has a Scandinavian-esque and exemplary hiking infrastructure, with mountain huts less than a day's drive apart (on average 15 kilometres between them). Part of the charm of hiking here is that there's no electricity, the area is not covered by a signal, and hygiene is handled in the form of a sauna. Here, in the wilderness far to the north, where there are three days to civilisation on the right and left, we feel completely safe thanks to the modest and thoughtful facilities, and experience incredible peace and relaxation.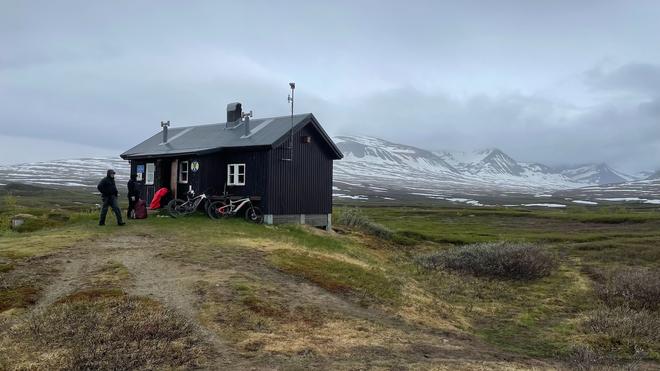 The huts are run by the Swedish Tourist Club. They have their own caretakers, are modest, without electricity, and you sleep in multi-bedded rooms with bunk beds with mattresses. There is always a kitchen with a propane cooker, an outdoor dry toilet and hot water for washing is heated on the stove. Every other cottage has a small grocery store. With all these facilities, we walk the entire trek with only a light pack and spend each day walking at a leisurely pace from hut to hut. Each afternoon there is then plenty of time to walk around, pick blueberries or relax with a book and a view of the endlessly vast landscape.
The last hut, Kebnekaise fjällstation, where we spend two nights, is a fully equipped mountain hotel complex with a hot shower, sauna, restaurant and shop. Here you can also reward yourself with a gastronomic experience in the form of a multi-course tasting menu. Of course, there is the Lapland reindeer speciality renskav, which is coarsely grated, stewed reindeer meat, which is extremely tender and has a very interesting taste, served with mashed potatoes and cranberry sauce, or roasted char, or Arctic char, which is undoubtedly the most delicious Nordic fish. The breakfasts here are also rich and made up entirely of local fresh ingredients. The lodge is supplied by helicopter, which makes it not too expensive to book a short scenic flight back to Nikkalooka (990 SEK), adding variety to the 19km final hike.
The best time to go on a summer trek is mid-August. This is when the mosquito-free season begins, which is the only enemy on the trail, and it's also when blueberries and cranberries ripen. Then, in late August and early September, the tundra begins to turn its autumn colours and with the first snow and longer nights, the hiking season comes to an end, although this is when you are most likely to see the Northern Lights.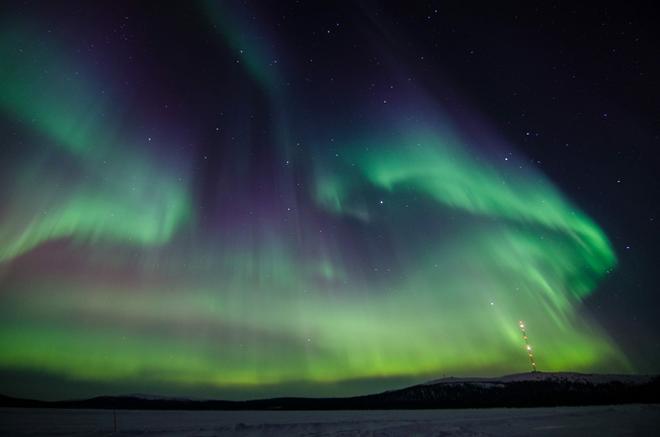 The ideal time for winter hiking is from mid-March to the end of April. Cross-country backcountry skis are best for getting around in the winter landscape of Kungsleden, but there's also good walking and skiing in the Kebnekaise area, with its stunning powder snow and attractive mountain scenery. The route, known locally as the Jojoleden, also features an amazing ski-alpine crossing, known without exaggeration as the Haute Route of the North. Thanks to widespread helicopter transport, the local mountains are also home to popular heliskiing, which, unlike in the Alps, has virtually no restrictions in Sweden. One of the two best bases for these activities is Nikkaluokta. A helicopter, together with a mountain guide of course, will take you to wherever the conditions are currently safe and good. And there really is plenty to choose from –⁠ a huge area of almost 200 square kilometres offers countless beautiful downhill ski trails.  
May and the beginning of June is the time when the snow melts and the route is empty. The huts are closed, but they serve as real refuges even in the off-season. They always have a so-called Säkerhetsrum, or emergency room with a satellite phone, where you can sleep in a linen bed by the stove and perhaps dry your clothes. There is also an open woodshed, where there is a saw and an axe.
The best way to get to northern Sweden is by air to Kiruna, Sweden's largest city, which lies above the Arctic Circle (it's 145km north). Kiruna is famous for its famous ice hotel and iron ore mine, which exports from here to all over the world. For transport from Kiruna to Abisko, it is best to take the scenic train journey, with a bus from the destination Nikkalooka.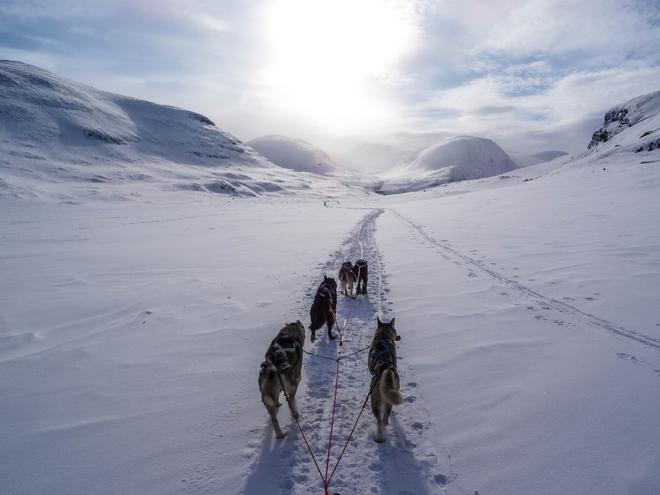 Our walking tour starts in the village of Abisko (400 m above sea level) at the beautiful large lake Torneträsk, from where it leads through low birch forests with cranberry bushes. Wetlands and damp heaths are crossed by boardwalks that make walking easier and protect the soil. With relatively little elevation gain, we follow a wide valley along the rapids of a wild river to Abiskojaure hut and then follow the reindeer tracks through the lakescape to Alesjaure hut. Only the second day of the route is longer (21 km), at other times we walk an average of 14 kilometres and the total daily elevation gain upwards ranges from 200–⁠650 metres.
Gradually we climb up to a plateau with mountain tundra and a number of lakes, then over three days we cross the Tjäktja saddle (1130 m) and through the Tjäktja, Sälka and Singi huts we reach the spectacular mountain gorge to the Kebnekaise massif, to the Kebnekaise fjällstation mountain hotel (690 m). Around 800 metres above sea level, the birch trees begin to disappear and only grasses and low bushes grow around us. The Tjäktja saddle is the highest point in the whole of Kungsleden, where you will find a small hut designed for rest and overnight stays in poorer weather conditions. Although the pass is "only" at 1130 metres, there is still a metre of snow in June.
The landscape here is varied, picturesque and peaceful. It is a land of mixed taiga and mountain tundra, endless lakes and gurgling rivers. The rounded hills often have broad peaks, many of which bear only Sami or no names. This is the land of Europe's wild elk, the largest herbivores on our continent. You may also see the Arctic fox, the wolverine or the tundra white-tailed deer, whose name in Sami is 'kiruna'. A bird, more or less white in winter and with feathers even on its legs, makes loud funny noises and runs like a hen. This is the territory of the Lappish Sami, who still graze their herds of reindeer here. If you come more often, you can observe the cycle of their life, which still revolves around these beautiful animals.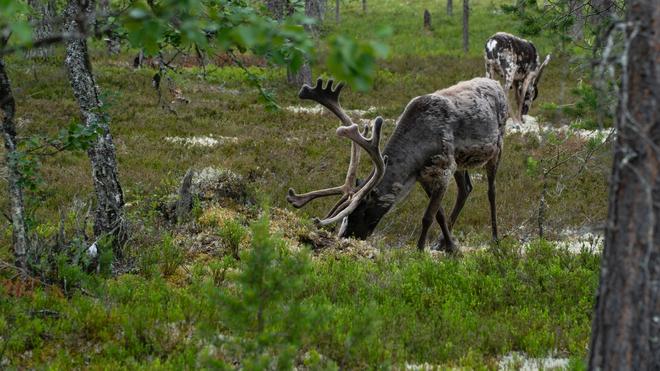 Climbing Kebnekaise (2,110m), we ascend gradually to around 1,900m, but only with a day pack, with the final summit climb of around 40m being on snow and which can only be climbed if it is not frozen. Overall, this is a fairly challenging hike with a lot of elevation gain, but there is also a less demanding alternative in the form of the Vierranvárri pre-climb (1711m), with an elevation gain of around 1000m. There are two main ascent routes to the summit.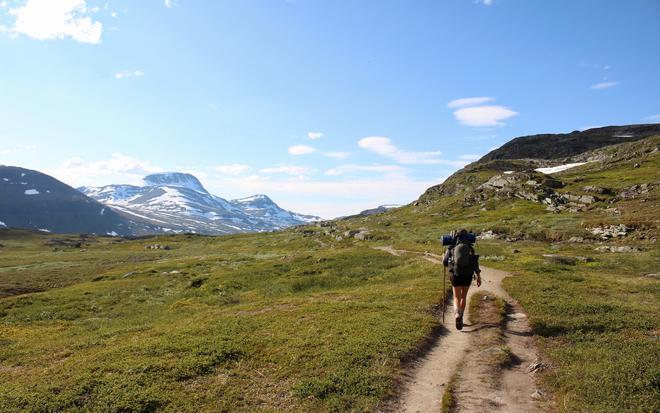 The so-called Western Route is considered "normal" and is not technically difficult, but be prepared to cross streams, climb endlessly to Vierrarvárri and lose a good 200 vertical metres descending from the summit. In the deep gorge, everything starts again and there is nothing to do but climb again towards the Nordic sky. The summit of Kebnekaise itself is a snow and ice ridge with two peaks. The higher of the two is the South Peak (Sydtoppen), which provides an unmistakable view of the 40,000 km² of mountains, valleys and glaciers of Sweden and neighbouring Norway.
The climb takes all day, which is why it is ideal to use the Kebnekaise fjällstation for two overnight stays. If you don't feel up to summiting, you'll still have plenty to do here. You can take a walk around Lake Ladtjojaure towards the village of Nikkaluokta, where you'll enjoy very nice views of the oddly shaped Nordic peaks. The well-marked path will take you all the way along the lake past many wetlands and meanders of the mountain stream.