Did you know that in March, Asia has ideal conditions for both seaside holidays and hiking in the mountains? Depending on where you go of course. In this article, we will have a look at the best areas in Asia to travel to during the month of March.
Below in the article you can find:
Asia is a huge continent, the largest in terms of land area and also the number one in population size. You will certainly not be surprised that the climate here is diverse, as it spans all the major climate zones. Going to the attractive destinations of South and Southeast Asia during the rainy monsoon season may not be the best idea. The amount of precipitation in Asia is influenced by the Himalayas, beyond which there are dry desert areas in the north, while the south and southeast are influenced by monsoon rains, which bring moist air from the ocean over land, and which is why it rains heavily in summer.
Here you can find destinations with the desired weather:
Would you like to go to Asia at a time when you'll only get wet occasionally and can go on a mountain trek in the Himalayas, or relax on a sunny beach? With our Sunheron app, choosing your dream holiday will be a breeze. Sophisticated algorithms based on detailed weather data will find the best places for you based on your requirements. We'll now introduce you to several places in Asia that are perfect for your March holiday.
Our first tip is tropical Southeast Thailand and its picturesque islands, the most famous of which is Thailand's largest island Koh Samui. It is about 800 km away from the capital Bangkok. If you travel by land, prepare for an adventurous journey first by train or bus to the town of Surat Thani, then by bus to the port and finally by boat to Koh Samui. However, you won't regret the long journey once you arrive in this tropical paradise, with temperatures in March routinely reaching over 30 °C and the sea warming to 25 °C or more. Of course, it's faster and more convenient to get here by direct flight from Bangkok with Bangkok Airways. If you snap up a deal on flights, it doesn't have to be expensive either. You can also combine a flight to Surat Thani and then use the boat service to Koh Samui.
The ideal way to experience the local beauty is from a car or the seat of a scooter, which you can rent here at reasonable prices. Drive through the local beaches and stop at the one you like best. Don't forget to try typical Thai specialties like Pad Thai noodles, Som Tam salad or coconut milk curry cooked in a variety of ways.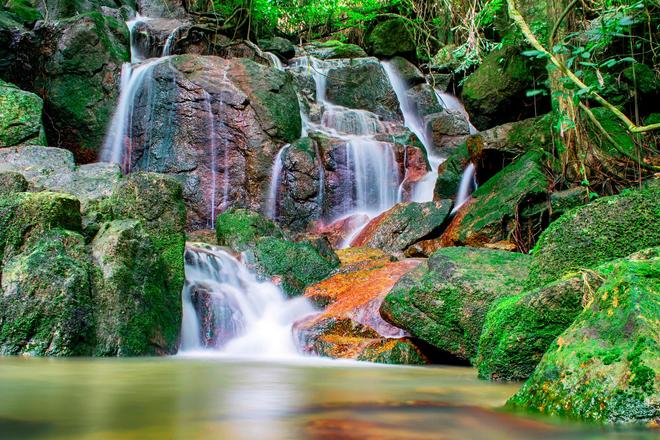 On Koh Samui, you can experience an adrenaline-pumping safari trip in all-terrain vehicles. With a tour operator, you can choose from several options and lengths of routes, the staff will train you and you can explore the local dirt tracks around waterfalls, mountain lookouts and coconut groves. Snorkelling fans will love to hop on a speedboat and let a guide take them to the shores of Koh Tao and Koh Nang Yuan, which are famous for their beautiful coral reefs and abundant marine life. Another option is a boat trip to the second largest island, Koh Phangan, where there are more sheltered bays and the coastline is generally more rugged thanks to the granite cliffs. The most popular beach, called Thong Nai Pan Noi, lies on the east coast.
Sabah is a state in Malaysia in the northeastern part of the island of Borneo. It is not such a famous tourist destination full of beaches as Thailand or Sri Lanka, but it offers many natural attractions. And don't worry, quality swimming is on offer here too. Although the Sabah region is one of the coldest areas in Malaysia, you definitely won't be cold here. In March, you can expect warm and humid air with an average temperature of around 30 °C. You won't get too cold even at night, as it's usually a little over 20 °C. On average, you have a chance of getting a little wet here every third day.
You may be wondering what is the best way to get here. Connections from the Malaysian capital Kuala Lumpur are provided by daily direct flights with Malaysia Airlines and AirAsia. The gateway to Sabah is Kota Kinabalu International Airport, about 20 minutes from the city. In the city of Kota Kinabalu itself, we recommend to make a stop, and do not miss a visit to the Masjid Bandaraya Kota Kinabalu Mosque, which is located on the shores of the South China Sea. Tours for tourists are common outside of prayer times and make sure you are dressed appropriately before visiting; long trousers and covered arms are recommended. Kota Kinabalu is also the starting point for visiting the Tunku Abdul Rahman Marine Park, made up of a chain of five islands (Gaya, Manukan, Mamutik, Sapi and Sulug) off the coast. Speedboats from Jesselton Point in Kota Kinabalu will take you to the most popular Manukan Island with its white beaches and great snorkelling conditions.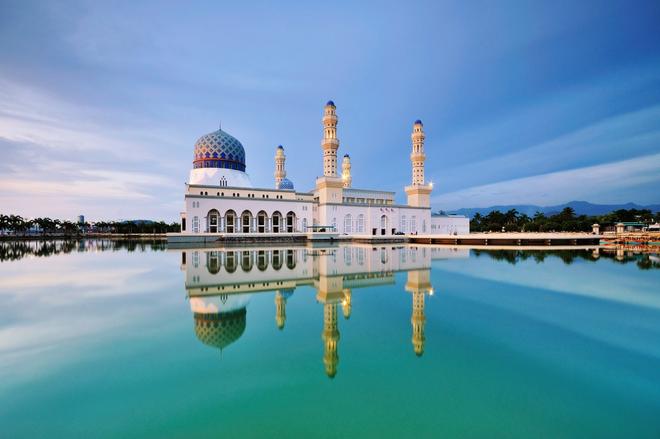 A trip to Pulau Sipadan, a small remote island 36 km off the south-east coast, will be a special treat for visitors who enjoy scuba diving. Renowned as a world-famous destination for diving with turtles, sharks, barracuda and other animals, it is formed by corals growing on a 600-meter-high extinct underwater volcano.
Embark on an adventurous expedition along the jungle trails where you will encounter unparalleled biodiversity. In Danum Valley, for example, you can see orangutans in the wild with your own eyes.
Mountain trekkers in Sabah have the chance to conquer Malaysia's highest mountain, Mount Kinabalu (4,095 m). Accommodation capacities along the way are limited, so you need to book your place in advance. Climbing Mount Kinabalu is usually a two-day affair. The first day involves a hike to the hostel in Laban Rata at an altitude of about 3,200 meters. On the second day, the final ascent starts very early in the morning, so that you can enjoy the sunrise directly from the summit. Don't forget to pack warm clothes, which will be needed at higher altitude.
We follow up with another destination made for mountaineers and mountain enthusiasts. There is no better place to start a mountain trek than Nepal. Here you have the opportunity to see the highest Himalayan eight-thousanders in person. Yes, sometimes it will require a little more effort, but you always have the choice of seeing the peaks from a panoramic restaurant in Pokhara, or experiencing the trek around Annapurnas or to the base camp below Mount Everest yourself.
March marks the main tourist and trekking season in Nepal. Temperatures hover around a pleasant 20 °C, the skies are mostly sunny and rain is very sporadic. After arriving in Nepal, stay in the capital city of Kathmandu for a couple of days before getting your permit to climb the Himalayas. Wander the winding streets of the Thamel district, which are brimming with accommodation, tourist and souvenir shops and, of course, restaurants. You'll meet many tourists here with the same goal - to head for the mountains. Climb the long stairs to the Swayambhunath, often called monkey temple, towering above the busy streets of the city (you'll see a lot of monkeys here). Go around the Buddhist temple of Boudhanath Stupa and enjoy its majesty, remembering that the Buddha's eyes are still watching you. There's another interesting place to visit not far from here - Pashupatinath Temple by the river Bágmatí, which includes a place where Hindus burn their dead in the open air. If you've got time to spare in Kathmandu, head a little further out of town to the temple town of Patan and take in the view of the temple square over a meal at one of the rooftop restaurants.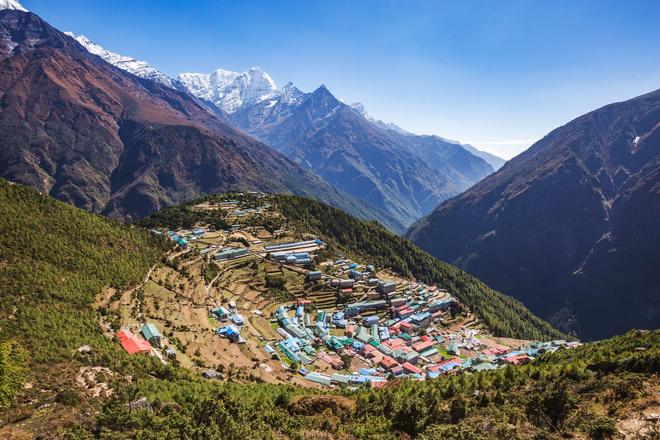 The most famous treks in Nepal are the Everest Base Camp trek and the Annapurna Circuit trek. The former is a bit more demanding to acclimatise as it usually starts at Lukla, a place with a dreaded airport with a short runway, which is also inclined, at an altitude of almost 3000 metres. Even getting here by plane can be complicated, and it can happen that planes don't fly for several days in a row due to adverse conditions. However, the landscape and the whole environment of the trek is not affected by the jeep transport of tourists. In the local famous centre of Namche Bazar (about 3,500 m) you can already see Mount Everest (8,849 m) for the first time from a distance. If you are well acclimatised and reach the 5,644 m summit of Kala Patthar, you will have the world's highest mountain right in front of you like in the palm of your hand, and you will see Everest Base Camp nearby. You will have to return the same way. Annapurna trek is a circuit through the highest pass, Thorong La at 5,416 m. You can end the trek in the city of Pokhara at Lake Phewa. The panoramic peaks can be observed here in a truly original way - by paragliding.
The reward for all returning mountaineers is certainly the journey to the south of Nepal to Chitwan National Park. It will be hot here, the climate is turning more tropical with higher temperatures and humid air. A slightly different Nepal. Swimming with elephants in the river is the main attraction, as well as a trip to the rainforest on elephant back, from which you can observe rhinos.
When you hear Cambodia, you defintely think first of the Angkor Wat temple complex near Siem Reap. In March you have ideal conditions to go here. It's a drier month with temperatures usually around 30 °C. Pay for a guided tour and go to watch the sun rise over the temple.
Cambodia is not only Angkor Vat, but also the wonderful swimming spots in the Gulf of Thailand. The most popular resort is the island of Koh Rong, which has experienced rapid tourist development in recent years and many different activities can be chosen here to complement swimming and sunbathing. If you want to explore the beautiful jungle scenery in an unconventional way while having fun, High Point Zip Line and Rope Park is just right for you. The obstacle course through the trees on suspension bridges and ropes will challenge anyone with even a little bit of an adventurous nature.
On Koh Rong's famous beaches such as Long Set Beach or Lonely Beach, you'll enjoy summer temperatures of around 35 °C and sea temperatures warmer than 25 °C, with the occasional cooling rain here and there. The island's surroundings are home to a variety of marine life, so snorkelling and scuba diving are popular activities here. When hunger strikes, order one of Cambodia's national dishes, Fish Amok. This is a Khmer fish curry stew served in banana leaf bowls with coconut cream on top.
The nearby smaller island of Koh Rong Samloem shouldn't be missing from your itinerary. Ferries from the town of Sihanoukville on the Cambodian mainland come here quite frequently. It's literally an island paradise with pristine white beaches, clear turquoise seas and tropical jungle wilderness. The main visitor centre is situated around Saracen Bay. From here, you can take a 40-minute jungle walk to Lazy Beach, which is listed as number two on National Geographic's "21 Best Beaches in the World" list. Whether you head here for snorkeling, jungle walks with monkey watching, or kayaking, you're sure to take away an experience of a lifetime.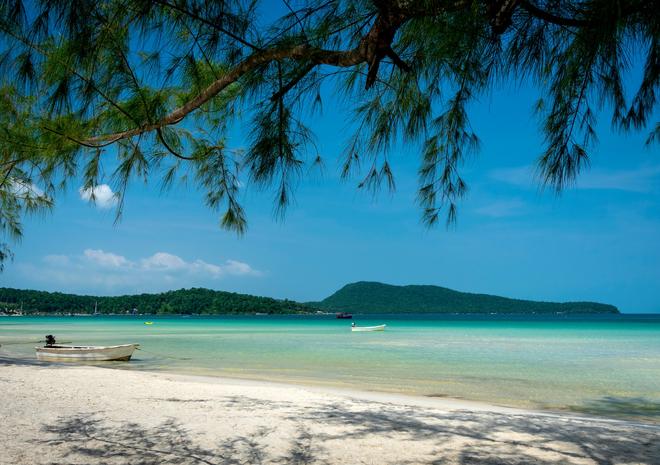 Sri Lanka is synonymous with diversity. This island off the southern tip of India is full of natural attractions and cultural sites, but it also offers many different activities, from surfing to scuba diving and hiking. March in Sri Lanka will delight you with its weather with temperatures around 30 °C and minimal rainfall, which encourages swimming in the Indian Ocean. The months of March and April are pleasant for another reason; as the peak tourist season is coming to an end, visitor numbers are beginning to dwindle.
If you'd like a relaxing and restful vacation, be sure to visit the resorts along the south-east coast with beaches such as Bentota and Wadduwa or Tangalle in the south. The water here tends to be heated to temperatures of around 25 °C or more. You definitely won't be bored here. For wildlife spotting, take an organised trip to nearby Yala National Park to observe elephants and leopards. Yala NP is known for having the highest density of leopard population in the world.
If the coast gets too hot for you, head inland to cool off a bit. We can recommend the mountain village of Ella, which lies at an altitude of over 1,000 meters, and expect temperatures of around 25 °C in March. Anyone visiting Sri Lanka must see the famous tea plantations. You can see plenty of them in the surroundings of the town of Ella. Stop here for a while and enjoy some of the most beautiful views in Sri Lanka.
If you are more adventurous and like mountains, you must not miss the hike to the sacred mountain with its pilgrimage site of Adam's Peak. The trek begins in the inland village of Nallathanniya. Plan this approximately three-hour hike for early morning to watch the sunrise with local pilgrims.
As of 2022 the political situation in Sri Lanka has been complicated. Before travelling to Sri Lanka, always get information about current events and security in the country.