Although you can still encounter ground (mostly bus) transport, we believe that air transport is the only relevant option. Of course, it depends on where you are flying from, but many places can be reached by direct flight to Istanbul.
TIP: We also recommend checking out flights with Pegasus Airlines (not found by normal flight search engines), which is very reliable and cheaper than e.g. Turkish Airlines.
Istanbul has two airports, most flights arrive at the "central" Ataturk Airport (IST) located in the European part, about 20 km from the city centre. There is a metro line (M1) from the airport, which is the cheapest alternative. Go all the way to the final stop, Aksaray. From here you are already very close to the major sights of Istanbul (yet you can get even closer by taking the T1 tram).
The other airport, Sabina Gökçen Airport, is in the Asian part. You will end up at this airport if you fly with the aforementioned Pegasus Airlines, or if you continue on to Asia. Although you will encounter many different shuttle buses outside the terminal, we recommend taking the comfortable Havalas buses. These are modern air-conditioned buses running to the centre every 30 minutes. The buses terminate at Taksim Square, from where it's easy to take the cable car (Tünel) directly to the centre itself, a few dozen metres down.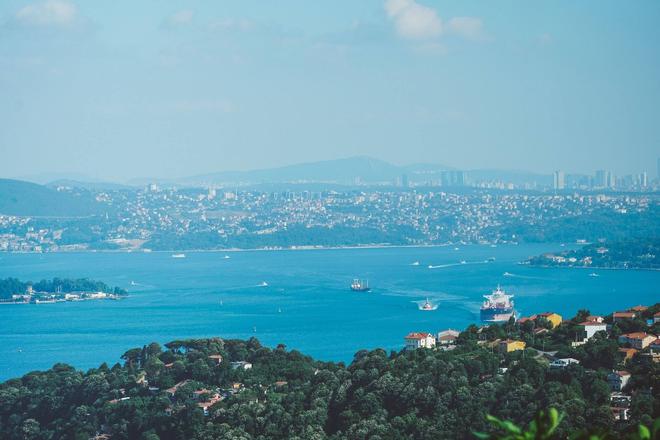 Transport around the city is slightly more complicated compared to other big cities. Mainly because you have to use a new token every time you change. Tokens can be bought at any kiosk, train or metro station and cost around 3 Turkish Lira (TL). However, it is impractical if you are travelling a relatively short distance and have to change trains 3 times, for example. It is possible to buy a so-called Istanbulkart, however it is not very worthwhile as you save almost nothing on it.
In Istanbul, besides the metro (it has 2 lines plus a "cable car") you will probably also use the trams (they are very modern and clean), buses and maybe even the city ferries running from Sirkeci station (European part) to Harem (Asian part).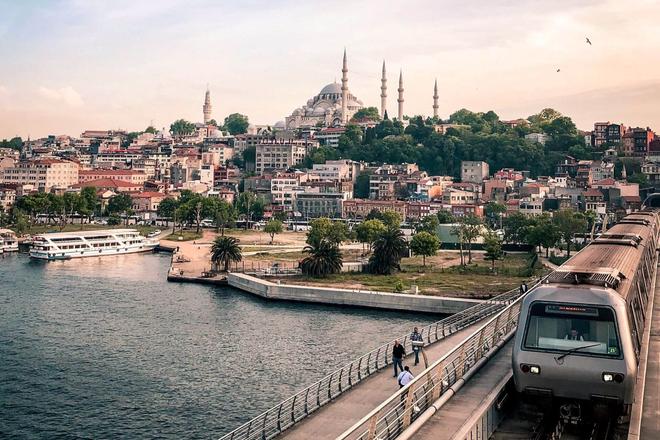 Getting your bearings in Istanbul will take some time. Istanbul has more than 13 million inhabitants in the agglomeration. Located on two peninsulas and continents, Istanbul's streets and alleyways are very convoluted and often narrow. However, the heart of the city is easy to navigate. And even if you can't, it's no problem to ask the helpful Turks. English is above average here, many of them live off tourism and therefore have at least a basic command of it. It's worth mentioning that especially in the summer, you'll have to wade through literally throngs of tourists and tour groups from all over the world.
For many Western tourists, Istanbul is their first encounter with Islamic and Arabic architecture and the Islamic way of life in general (not counting summer holidays in Egypt, Tunisia, or just on the Turkish coast). In Istanbul you will come across typical Turkish mosques on practically every corner. Turkish mosques are characterised by their rounded domes and tall, slender minarets (in fact, in every part of the Arab world you will find completely different architecture and construction of mosques). I would definitely recommend going to a "regular" mosque in a different part of Istanbul than the centre to see practicing Muslims praying. In Turkey, unlike other Arab countries (e.g. Morocco), tourists are allowed to enter mosques.
The most famous sights of Istanbul are located in the Old City, or Sultanahmet. Take tram 1 to the Sultanahmet stop (really make sure the tram says Sultanahmet and not Topkapi for example. The connection with the Topkapi sign does not go to Topkapi Palace, but to the district of the same name, which is about 6 km from the centre J).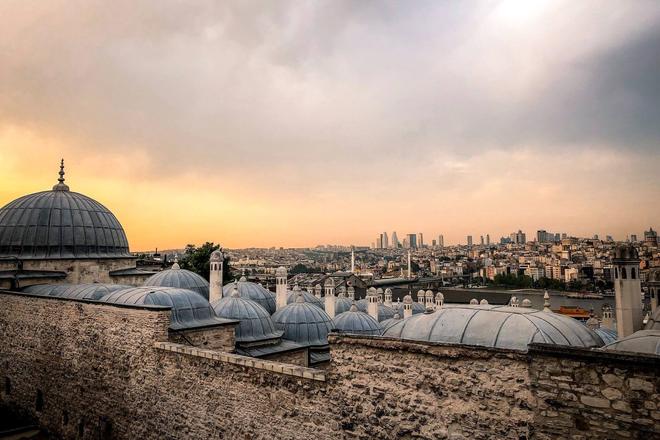 Every tourist's attention is first drawn to the two mosques. The Sultanahmet Mosque, known as the Blue Mosque, and Hagia Sofia (sometimes also Aya Sofia) are located across a small park from each other. It looks as if they are juxtaposed.
Hagia Sophia is a monumental museum and Byzantine cathedral from the 6th Century, which was the seat of the Patriarch, and for nearly 1000 years was the largest cathedral in the world. It was converted into a mosque in the 15th century, which is why we can still admire the slender minarets on it today. It is quite expensive to go inside and there are no discounts for students, but it is really worth it. It's especially comforting to know that entry to its neighbour, the Blue Mosque, is free (or voluntary).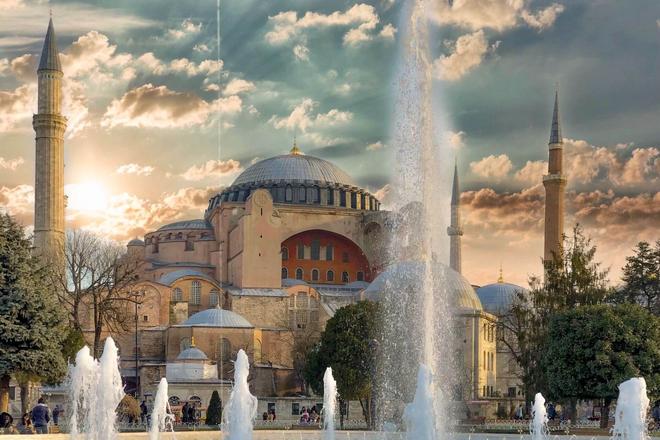 Inside Hagia Sophia you can admire the magnificently decorated and spectacular interiors with various Christian saints and many black ornaments. The place is truly magical. we recommend going to see the gallery (first floor). The only downside is the overabundance of tourists with clicking cameras.
The Blue Mosque is still a practicing mosque, so you will encounter worshippers here (although they are a clear minority compared to the tourists). Anyway, you should behave accordingly. Of course, long trousers and entering without shoes are a must (there are carpets inside and you can take your shoes in a bag). An interesting feature is the 6 minarets, which is a very unusual number for a mosque. Most mosques have one or two minarets. Such a high number of minarets can be considered disrespectful to the main mosque in Mecca. The Blue Mosque is also Istanbul's largest mosque and one of the largest in the world.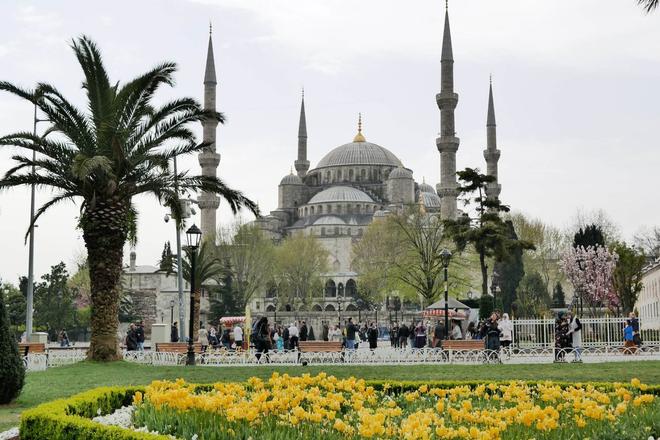 Gülhane Park – if you want to relax for a while on a stretch of greenery, this park with its many benches is the perfect place to recharge your batteries between sightseeing. It surrounds Topkapi Palace.
Basilica Cistern – an impressive labyrinth of underwater tanks dating back to the 6th century. Beautifully lit.
Topkapi Palace – a walled sultan's palace that has served its purpose for almost 400 years. Today it is open to the public and we definitely recommend a visit, despite the high price (like Hagia Sophia). For one thing, you can see the many chambers, the mint, the library and the courtyard of the former Sultan's residence, but you also have a wonderful elevated view of the Bosporus Strait, the Sea of Marmara and the Asian part of the city. Adding to the charm and variety of the whole atmosphere are the dozens of different ships sailing here. We recommend setting aside at least 2 hours for a visit, so check ahead for opening times.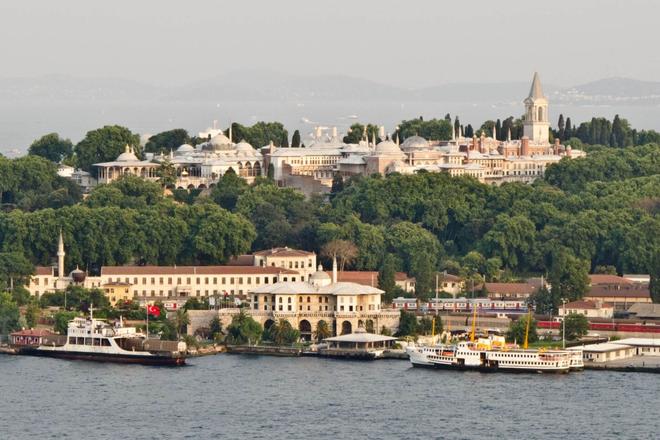 As you exit Topkapi, continue straight ahead (you'll pass lots of stalls selling melons and other fruits) and after a while you'll come across the inconspicuous entrance to the mausoleum of the Sultan and his family on your left. These are several mausoleums, with coffins covered in green satin. What is interesting, however, are the mosaics of the individual "chapels". You can walk between the coffins to get a better feel for the atmosphere. An advantage is that you probably won't encounter any tourists here.
Head away from the sea into the heart of the Old City (towards the Grand Bazaar) and explore the alleys and corners of Istanbul. This is the only way to get to know the true face of this magical city and to escape the tourists.
Across the bridge from Sultanahmet is the Galata Tower, a medieval symbol of Istanbul. Be sure to go to it (you can use the funicular again). Take the elevator to the top of the tower and then you can indulge in dreamy views of the old city and all the sights there. Definitely worth a visit.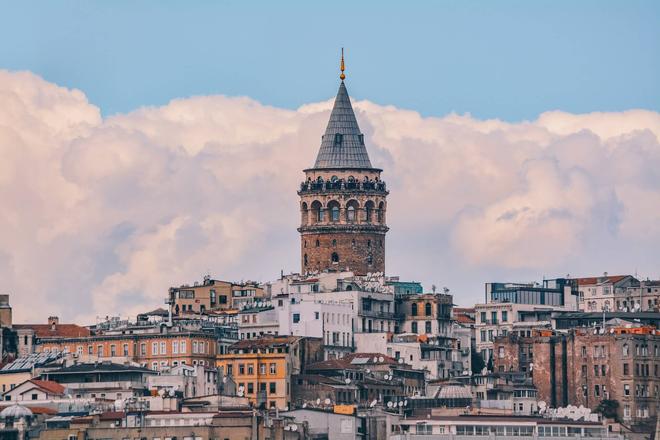 Take a longer walk and go to Independence Avenue (Istiklal Caddesi) to Taksim Square. You will admire modern Istanbul full of high-rise buildings, expensive restaurants and designer shops. In addition, Independence Avenue is a pedestrianised area where only historic trams run.
Dolmabahce Palace – a magnificent palace, the main centre of the Ottoman Empire in the 19th and 20th centuries, only about 500 meters from Taksim Square on the shores of the Bosporus Strait. It is possible to take a guided tour, which is definitely worthwhile as the interiors and views are magnificent. Interestingly, one of the largest chandeliers in the world hangs in the central hall.
Although all the guidebooks warn that eating out in the historic Sultanahmet district is expensive, this is not entirely true. Of course, like any touristy big city, you'll come across restaurants on every corner where prices are usually high, but if you're looking for cheap traditional fast-food kebabs, they can be found quite cheaply. The important thing is not to follow the tram route, but to go to smaller streets where you won't be chased by restaurateurs.
The Grand Bazaar area is also definitely worth mentioning. Of course, an alternative, and often cheaper, is the Galata district with Taksim Square. Here you will also come across a McDonald's.
Some tips on specific places:
Balkan Lokantasi – a popular restaurant among locals with traditional Turkish food and very good prices (Emekyemez Mh., 34420).
Tarihi Subaşı Lokantası (Çarşıkapı, Nuruosmaniye Cad) – a highly regarded restaurant with traditional Turkish dishes. Located near the Grand Bazaar. 
Fermentasyon – a café near Taksim Square with low prices. 
And you shouldn't forget to visit one of the traditional tea houses too. Turkish black tea is sipped from small flask-shaped glasses and you always get at least three sugar cubes with it. If you feel like it, you can smoke a hookah with it. And besides tea, don't forget the unique Turkish coffee.
As far as accommodation is concerned, we definitely recommend trying the Couchsurfing.com community and server, which is a very popular community in Istanbul and it is not a problem to arrange accommodation with a local couchsurfer. The advantage is that besides the money you save, you get to know the local people and you also get to visit neighbourhoods you wouldn't otherwise go to (in a positive way, of course).
And certainly, there is also a wide variety of hostels and hotels to choose from. We definitely recommend staying in the Old Town of Sultanahmet, as evening walks along the sea or around the illuminated mosques are endlessly romantic.
An excellent hotel is Hotel Antique, where you can often get a double room very cheaply, even with all the taxes and especially breakfast. Moreover, the hotel is located in a nice area between the Blue Mosque and the Marmara Sea coast on a nice hill. This whole area is full of excellent hotels and restaurants.
A little further away from the centre, but still in the Old Town and on the waterfront, is the Karslioglu Hotel, which is about the same price as the Antique Hotel (Kucuk Pazar).
Excellent, clean and with a homely atmosphere is the Art-ist Apart Hotel, which is next to Hagia Sophia and a stone's throw from Topkapi Palace (Alemdar Caddesi Guzel sanatlar Sokak).
Similarly, another competing hotel is located between the Blue Mosque and Hagia Sophia – Yakamoz Guesthouse. Again an excellent experience, great prices and most importantly breakfast included. Here the rule that Istanbul can be very cheap despite the tourist rush is confirmed. You just need to know where.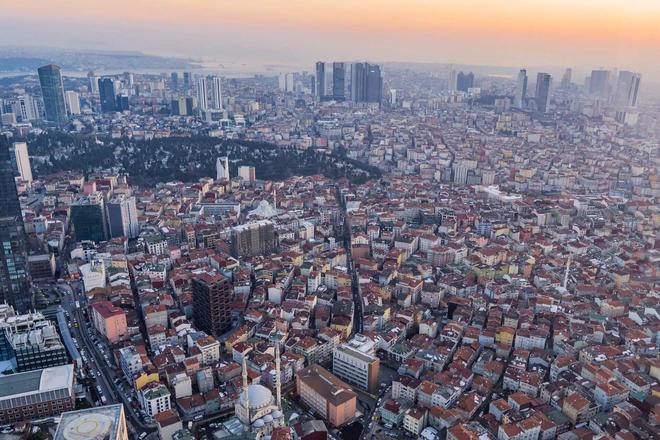 Istanbul is an ideal place for shopping. Be sure to buy plenty of great Turkish sweets.
Everyone needs to spend a few hours in the Grand Bazaar, you can get everything possible and impossible. You can get here very easily by tram (T1) from Sultanahmet (Beyazıt-Kapalıçarş stop). This is one of the largest indoor bazaars (markets) in the world. You will find 60 covered aisles here and 3000 shops. Due to the fact that the place is popular among both locals and tourists, it is definitely possible to lose yourself in the crowds.  
And what can you get here? Jewellery, gold, carpets, furniture, leather goods, as well as all kinds of food, souvenirs, pharmacy items, clothing. The Grand Bazaar is a city within a city and it has a life of its own. For ease of orientation, one can observe (as in all Arab countries and Iran) that shops with the same goods are concentrated close to each other. So, for example, you'll walk down one street and find shop after shop selling gold, and on another street you'll find spice stalls, etc.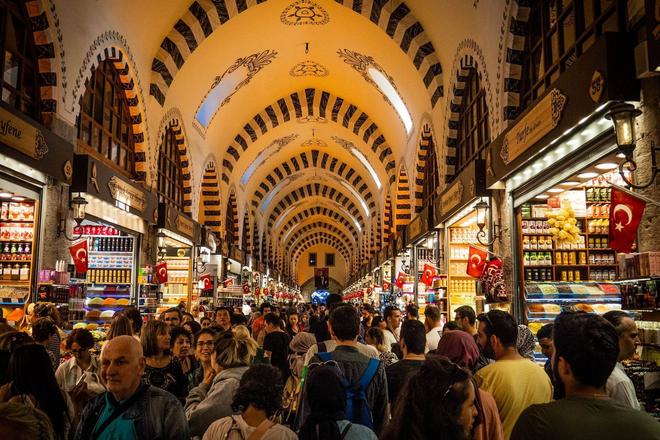 If you want a classic shopping mall (designer stores, electronics, etc.) but don't want to go too far away from all the sights, we recommend visiting the Historia Shopping Centre, the only one of its kind in the Old Town. Take metro station 1 Aksaray and then about 300m straight down the street away from the centre, and you'll have the mall on your right.
You certainly can't leave Turkey without visiting a Turkish bath at least once. There are dozens of them throughout the city, and most are for both locals and tourists. Again, we definitely recommend visiting a spa that is mostly frequented by locals, as this is the only way to experience the true Ottoman atmosphere. There are more than enough of them in the Old Town alone, so you don't even have to leave Sultanahmet.
Çemberlitaş Hamamı – Vezirhan Caddesi 8 – again in the very centre, these are among the cheaper ones and are divided into male and female sections. Of course there are plenty of additional services such as massages.
Tarihi Şifa Hamam – another example from the Old City.