Rio de Janeiro translates to "River of January" and was founded by colonists from Portugal in 1565. It lies in the federal state of the same name and is Brazil's second largest city after São Paulo. It was the capital of Brazil from 1763 to 1960 and today is one of the most visited places in the southern hemisphere thanks to its carnivals, beaches, the statue of Christ the Saviour and the Sugar Loaf.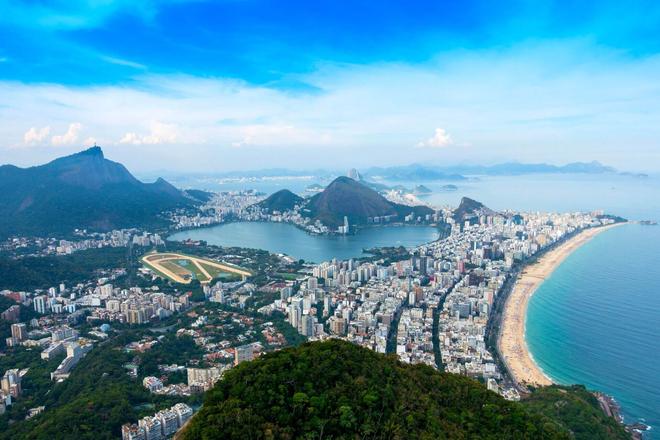 As a visitor to this city, you should also be aware of the local crime and violence that Rio de Janeiro has long faced, which has resulted in the displacement of many people who have chosen to leave this beautiful but often dangerous city to live in peace and without fear of being attacked at any time.
You can encounter crime anywhere, but it is mainly related to the existence of favelas, which are shanty towns where less than a quarter of the population is concentrated. Neither the state nor the city are the decision-makers here and they are not in control. The favelas are mainly set in the hills and are controlled by the drug mafia and paramilitary militias. However, if you avoid these neighborhoods or follow the advice of the locals, you will avoid further risk.
The main gateway for foreign tourists is Rio de Janeiro-Galeão International Airport on Gubernador Island in Guanabara Bay. After a long flight, you'll probably want to relax, so why not head to one of the city's many beaches. To rest and recharge, we recommend the sprawling beaches of Ipanema and Leblon for starters, separated only by a small sandbar and overlooking the towering rock of Morro Dois Irmãos, which you can climb, and the top will reward you with a breathtaking view of the sea, beaches and Rio's green rolling landscape.
These beaches are much less crowded than, for example, Copacabana and therefore the sand and sea are much cleaner. Plus, you have more room for your canga, which is a typical Brazilian, thin and bulky scarf that is used as a beach blanket to wrap yourself in when you leave. If you walk off the beach wet, half naked and full of sand, don't worry about it, half the population will look the same. To get to these beaches, simply take the metro and get off at the Nossa Senhora da Paz stop for Ipanema beach, and Jardim de Allah for Leblon.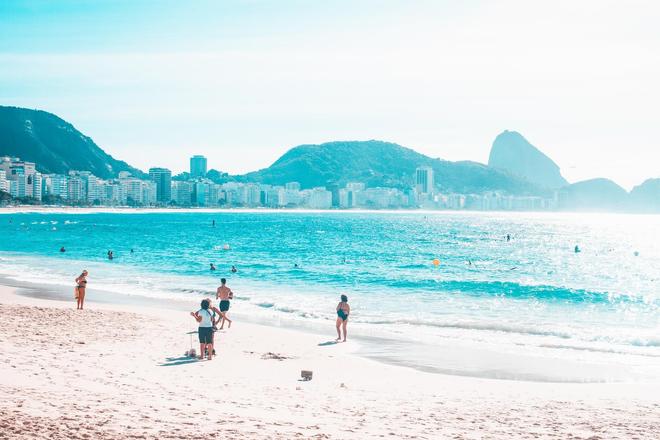 And if you're in the mood for food? Just raise your hand and summon a beach vendor and choose from one of the many snacks and light bites on offer here. Rio de Janeiro's beaches are generally very long and therefore divided into what are known as Posto sections. A little tip for single women who want peace and quiet on the beach – Posto 9 Ipanema, which is the section where only gay men congregate, always has a few single women enjoying the safety and privacy of this part of the beach.
If you're staying in the more southern part of Rio de Janeiro, be sure to visit one of the longest beaches, which are officially divided into 4 parts – Praia da Barra, Praia da Reserva, Praia do Recreio and Praia da Macumba. These beaches are beautiful, less frequented by people but with bigger waves, except for Macumba beach, and resemble wilder more deserted beaches. However, this part of the coast also fills up at the weekend.
Macumba is unique in that it forms a sandy, narrow path to the cliffs of Pedra do Pontal, which is only washed by the sea on both sides for about 20 metres. On the other side of the cliff it flows freely into the wilder and almost unvisited beaches of Praia do Secreto, Prainha and Praia do Abricó, which is nudist and relatively unknown.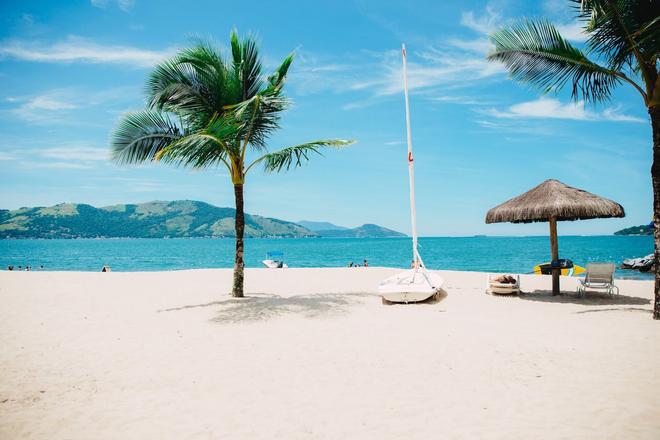 Alternatively, in the centre, on the other side of the Sugar Lobster (Bondinho do Pão do Açúcar), there is a small beach called Praia da Urca, which is very special as the Candomblé practitioners practice their ceremonies and rituals here on special days. Candomblé is an African-American religion and the different communities practice this religion by worshipping many gods, called Orishas. For example, at the beginning of January and in February there is the festival of Orisha Ijemanjá, who is the goddess of water and the seas, and if you are lucky enough to visit on these days, you will experience a wonderful spiritual moment where everyone present is dressed in white robes and makes offerings of flowers, candles, alcohol and coral in a basket that they release to the sea to bring this goddess to their side. Near this beach there is a small promenade that starts in the ancient and rich Urca district and takes you to Mureta da Urca. This is the name given to a spot on the edge of the bay overlooking the harbour, where only locals gather with a beer to pay homage to the setting sun, which sets in the distance behind the statue of Christ, which is only slightly visible from this spot.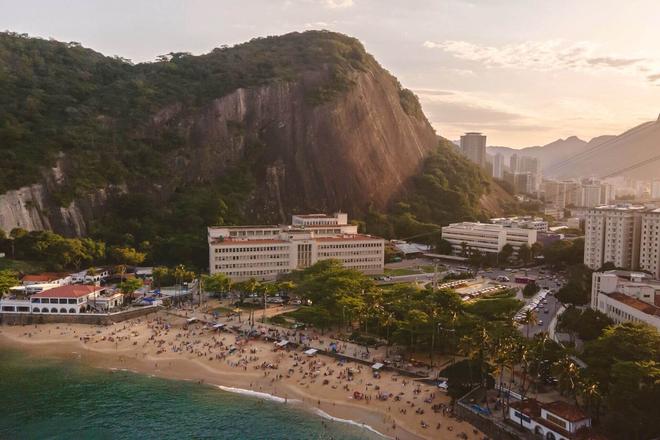 From here, it's not so far to Centro and Lapa and Santa Teresa, which are some of the oldest neighbourhoods in Rio de Janeiro. The ceramic stairs of the Escadaria Selarón in Lapa shine in all colours and are interesting to see, although groups of tourists can't be avoided here. The district, looking empty and very sleepy by day, awakens at night into a bar district where a glass of capirinhi and a samba is hard to resist. If you want to dance or just watch the locals swarm around for a drink, try the atmosphere at one of these samba bars: Booze Bar, Lapa 40°, Rio Scenarium, Carioca da Gema, Café Cultural Sacrilégio, Trapiche Gamboa, Brazooka or Sarau Rio.
In the neighbouring district of Santa Teresa, during the day you can visit Parque das Ruínas, a park with an art gallery built around the ruins of an old dwelling, where outdoor concerts are held with a unique view of Guanabara Bay on one side and the Centro on the other. When hunger strikes, go for a proper feijoada for example – a traditional Brazilian meaty and very thick dish best washed down with a glass of cachaça (Brazil's national alcoholic drink made from sugar cane) at Bar do Mineiro or Aprazível.
After that hearty lunch, it's worth taking a ride on the unique historic tram to the Centro itself, where the waterfront is worth a stroll, with the huge white building of the Museu do Amanhã, which was only completed in 2015. Nearby is an avenue called Boulevard Olímpico, where you can admire the huge and masterfully crafted colourful six graffiti depicting the persons of indigenous people representing all continents. And nearby is the excellent Angu do Gomes restaurant, where you can enjoy some traditional Brazilian delicacies.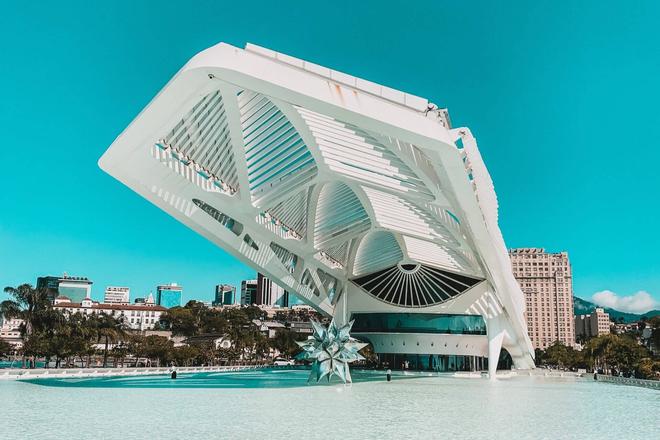 Rio de Janeiro's landscape is mainly made up of a large number of green hills that can be climbed or hiked up, which, if the weather is cloudless, will provide an impressive spectacle. Outside of these hills, for a bit of nature you can also head to the Jardim Botânico botanical garden, where you can enjoy the sight of all the fruits and plants of the local tropical flora. At the entrance, you'll come across a stylish local restaurant, but avoid it at the weekend if you don't want to feel like you're in a kindergarten with a group of loud kids while you enjoy your coffee or lunch.