The main draw of the Azores is the island of São Miguel. It's the easiest to get to, with flights from Germany, England, Portugal, as well as Canada and the US, plus it has hot volcanic lakes, tea plantations and cozido –⁠ stew cooked underground in the hot soil. Terceira is different. In almost everything.
Terceira is located in the central part of the archipelago, with 3 other islands in close proximity, each with its own specific identity. Interestingly, Terceira, the third island discovered (hence the name), is home to a US Army base. That is why there is a rather large airport that receives flights from Porto and Lisbon. You can't get regular flights from anywhere else, except for the other Azores. Ticket prices from mainland Portugal can be very cheap, and you can get a return ticket for as little as 40 euros in advance.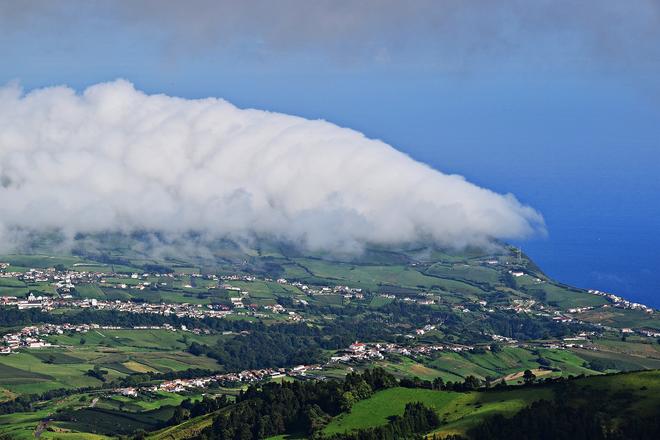 Terceira, which is roughly the shape of a potato, is a stunning combination of dense vegetation, sprawling pastures and basalt cliffs. Like all the Azores, it is of volcanic origin. While you won't find a volcano in the true sense of the word (for that you have to go to Ilha de Pico, where Portugal's highest mountain, Pico, is also located), or hot lakes (beyond those at São Miguel), traces of volcanic activity are everywhere, whether they're vast calderas or smouldering vents.
It's not just about natural beauty. Historic Angra de Herosimo is a UNESCO World Heritage Site. This place charms with its pastel-coloured houses, winding streets and slightly kitsch cathedral, which stands right by the harbour. You'll also find the monastery where Pablo da Gama is buried.
Angra, the island's largest city, is also the best base for travelling around the island; you can get all the essentials here, it's close to everywhere and there are ferries to other islands. So what to see and experience on Terceira? Everything!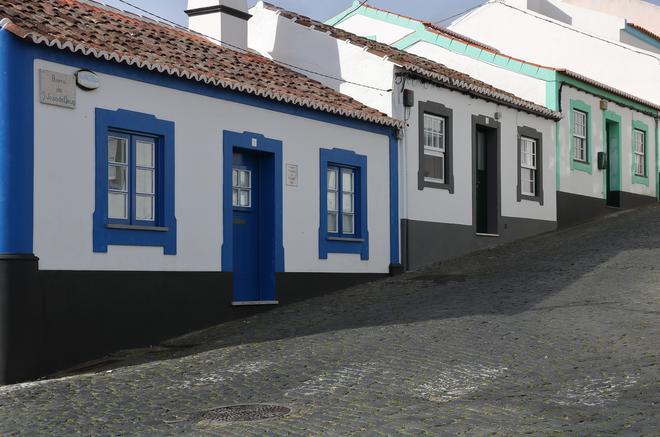 It may sound unlikely, but in 4 to 6 days you can really explore the island thoroughly. An essential visit should be to the highest peak of Santa Barbara. At 1,021 meters, it is almost doomed to be eternally in the clouds. But if you're lucky enough to see further than 100 metres for even a moment, you'll be mesmerised.
The peak is part of the Reserva Florestal Natural Parcial da Serra de Santa Barbara e dos Misterio Negrós. Just walk a couple of hundred metres eastwards through somewhat boggy terrain and you will reach the gallery (38°43'56.15″N, 27°18'40.20″W), which overlooks the western end of Misterio Negros. If the weather is not good, don't despair, in a few minutes everything may be different. One minute you can see the north coast, the next the south, and then out of the blue the sun can lean into the basin and you'll see so much green it's eye-popping.
Misterios Negros really needs to be experienced! There is a one-way trail through it that will take you about an hour and a half. It starts at Gruta do Natal and we recommend sturdy and waterproof shoes for this. You'll feel like you're in a crawlspace at times, but it's worth it.  . There are alternating vegetation types, and when you get into the thickest jungle, it's almost impossible to take photos – there's little light and space, and no photo will show how uncompromising the environment is.
Roughly 3 kilometres from Misterios Negros are the Furnas de Enxofre rock formations. The place looks rather inhospitable. The vents permanently emit sulphurous vapours at a temperature of about 60 to 80 degrees, which has a great effect on the vegetation in the immediate surroundings, which are replaced by colourful crystalline structures. Another 3 kilometres to the east you will find the Gruta do Algar do Carvao, an underground cave covered in moss that was created by the collapse of a crater. The cave is considered by some to be the island's biggest tourist attraction, so if you're going to find a larger concentration of tourists anywhere, it's going to be here. Adjacent to the cave is the Caldeira de Guilherme Moniz, the largest crater in the Azores, 3 kilometres wide and covered in medium-high vegetation.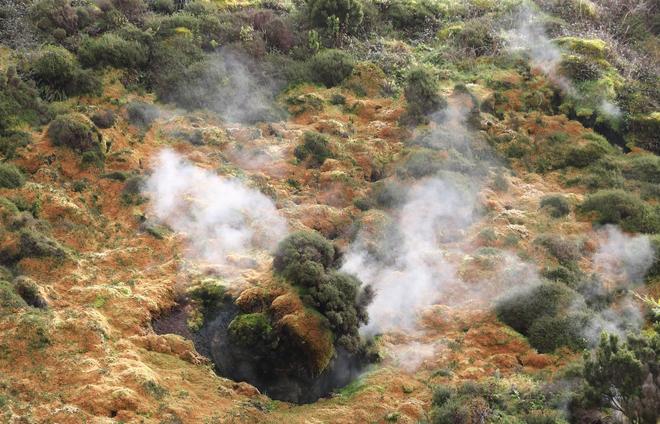 The best viewpoint on the eastern side of the island is Serra do Cume. Weather permitting, you can see half the island – Angra de Herosimo on one side, Praia da Vitoria and the base of Lajes on the other.
Our secret tip is to go from Gruta do Algar to Carvao, and then to Agualva. The road through the island changes surface several times and passes through low dense vegetation. It is easily passable by car and above all it is completely deserted.
The coastline of Terceira is wild. It's usually high rock outcrops and there are few places to swim – there are only two classic beaches, the town beaches at Angra and Praia, and more common are pools carved out of the rocks. Moreover, the sea temperature ranges from 17 to 22 degrees. In other words, Terceira is not a destination for those who like to sunbathe on a sun lounger and soak in the sea.
Terceira is mainly suitable for those who like good food and wine, and like to walk. You can wander among the carraletas, chequered fields separated by walls, taste the local cheeses or go for delicious roast beef. The sunsets overlooking São Jorge, Pico and Graciosa are unforgettable, as are the private guided tours at the Museo de Vinho, with tastings of verdelho wine, which tastes a little like white port.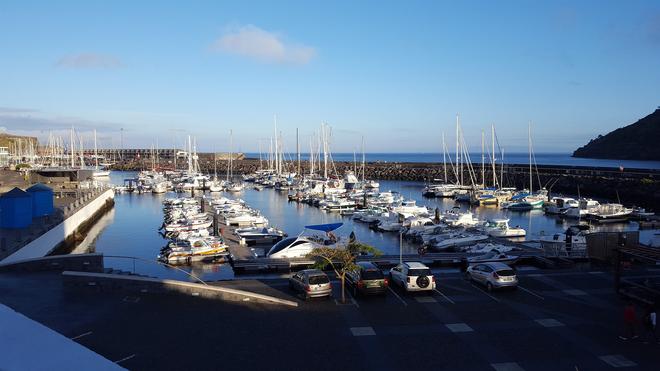 Taberna Roberto (38°40'46.30″N, 27°13'37.78″W) is also unforgettable, which is surprisingly run by Mr. Roberto. He sits and chats with each guest. We recommend booking a seat and a main course. Mr. Roberto specialises in slow-roasted meats over wood, and of the six meaty main courses, three are for more than one person. Also worth mentioning is Restaurante Caneta in Altares with great roast beef and Beira Mar in São Mateus specialising in fish.
Accommodation is not a problem on the island either. Everything can be arranged through booking or airbnb. Prices are moderate (even for 25 euros for two people you can live like kings), which applies not only to accommodation but generally to all services and goods. Another plus is that you can speak English with everyone, even in the most backwater corner. This would really be appreciated in certain other travel destinations.  
The only downside is the public transport – you can count the bus routes on your fingers, they don't usually run on time and the prices aren't exactly moderate either. On the other hand, you can get a bus to stop almost anywhere, just tell the driver or wave at him at the side of the road. So we more than recommend having your own car for traveling, which you can rent at the airport or in Angra or Praia.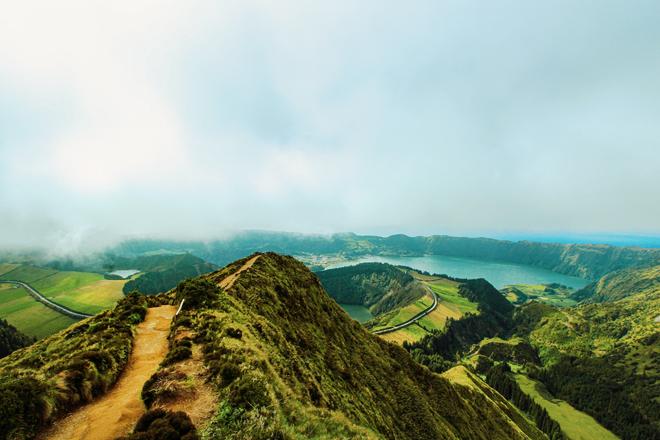 To sum up, the Azores is a bit like Iceland in the subtropics. They're wild, albeit in a completely different way, still pretty much undiscovered, and also, pretty cheap. Terceira may not be as attractive to look at as São Miguel, but it's much wilder and more authentic, with more islands within easy reach. Before the tourists discover it, it will remain such a little paradise on earth for those who like active holidays and good food. So don't hesitate to go there. It's quiet charm may not last forever.