Menorca is located in the centre of the western Mediterranean, about 40 km northeast of Mallorca and about the same distance from both Marseille and Algiers. It covers an area of 668 square kilometers and is 50 km long and 16 km wide. The island is shaped like a horseshoe and is divided into two parts: north and south. The northern part is more mountainous, rocky and has darker soil. Monte Toro (358 m above sea level) is the highest point of the island. The southern part is flatter, limestone and has lighter soil. Son Bou (3 km) is the longest beach of the island. The island also has two main bays: Mahón in the east and Ciutadella in the west, where the two largest towns of the island are located.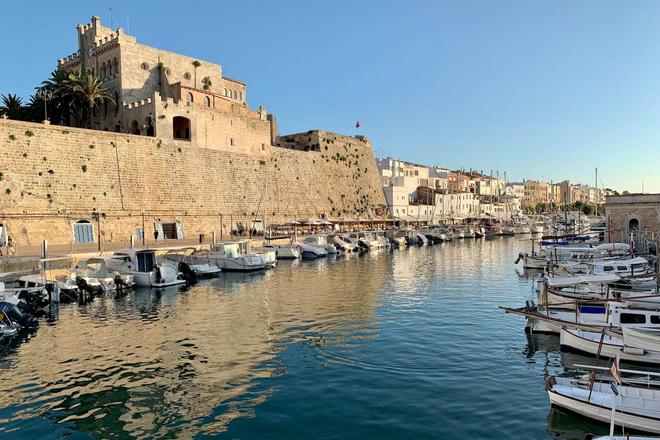 Menorca has a rich and varied history that dates back to prehistoric times. The island has more than 1,500 archaeological sites dating back to the megalithic period (from the 3rd millennium BC), when the Talayotic people lived here. Among the most famous monuments are menhirs (stone columns), talayots (stone towers), taulas (stone tables) and navetas (stone tombs). These structures are unique in the Mediterranean and are witnesses to ancient culture and religion.
Over the centuries, Menorca has been influenced by different civilisations and cultures that have left their mark on the island. Among them were the Phoenicians, Carthaginians, Romans, Vandals, Byzantines, Arabs, Normans, Aragonese, French, British and Spanish. Each of these powers influenced the language, architecture, religion and customs of the island. Menorca was also the scene of several battles and sieges, especially in the 18th century when it was a strategic point in the Wars of the Spanish Succession and the Seven Years' War. In 1756 Menorca was conquered by the British, who remained there until 1802, when it was returned to Spain under the Treaty of Amiens. During British rule, Menorca was modernised and culturally enriched. The British built forts, hospitals, schools and ports. They also introduced new crops such as the tomato and the potato, and new drinks such as gin and tea. The British influence is still evident on the island in some words (e.g. grevi = gravy), architectural features (e.g. windows with wooden shutters) and traditions (e.g. horse riding).
Menorca has many interesting places to visit that reveal its history, culture and nature. Among the most important are:
Mahón: the island's capital with the largest natural harbour in Europe. Here you can explore the old town with its churches, palaces and museums, visit the market with local products, taste the typical Mahón cheese or have a glass of gin and lemonade in one of the bars by the harbour.
Ciutadella: the former capital of the island and has a charming historic centre with a Gothic cathedral, an Arab town hall and noble houses. Here you can enjoy the atmosphere of a medieval town, stroll through the narrow streets full of shops and restaurants or have a coffee in Plaça des Born.
Fornells: a small fishing village in the north of the island, famous for its gastronomy and sporting activities. Here you can enjoy a traditional dish called caldereta de llagosta (lobster pot), cooked in huge pots over a fire, or try windsurfing, diving or sailing in Fornells Bay.
Binibeca: one of the most picturesque villages on the island, built in the 1970s as a replica of a traditional fishing village. Here you can see the white houses with blue windows and doors that form a labyrinth of alleys and yards that create a white and blue mosaic. Binibeca is the perfect place to take photos, go shopping or sample local specialties.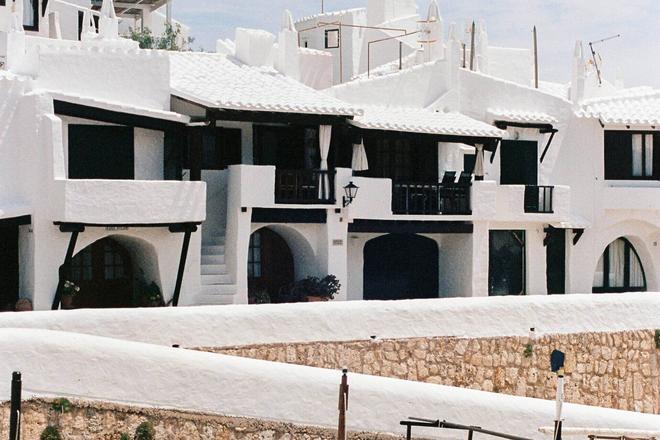 Naveta des Tudons: is one of the oldest and most famous monuments on the island, belonging to the megalithic culture. It is a stone tomb in the shape of an inverted nave, built between 1200 and 750 BC. The remains of more than 100 people and various bracelets, vessels and tools have been found here.
La Mola de Mahón: is an impressive 19th century fortress located at the entrance to the port of Mahón. It was built during the reign of Queen Isabella II as a defence against possible enemy attacks. Here you can see the walls, barracks, cannons and underground tunnels that illustrate the military history of the island.
Cova d'en Xoroi: is one of the most popular attractions on the island, combining nature, legend and entertainment. It is a cave carved into a cliff above the sea where legend has it that a mysterious man named Xoroi lived and kidnapped a young girl from a nearby village. Here you can enjoy a spectacular view of the sea, listen to the story of Xoroi or have a drink in one of the bars in the cave.
Menorca is famous for its beaches, which are considered among the most beautiful in the Mediterranean. There are more than 200 beaches of different types and sizes on the island to suit every taste and need. Among the most famous and popular beaches are:
Cala Turqueta: is one of the pearls of the south coast of the island, characterised by fine white sand and turquoise water surrounded by pine trees and rocks. It is an ideal beach for relaxing, swimming and snorkelling. It is accessible by car or on foot along the path from the car park.
Cala Macarella and Cala Macarelleta: are two neighbouring beaches in the south-west of the island, forming one of the most picturesque corners of Menorca. They have white sand and azure water that contrasts with the green vegetation and reddish-brown rocks. They are ideal for swimming, sunbathing and snorkelling. They are accessible by car or on foot along the path from the car park or from the nearby beach of Cala Galdana.
Cala Pregonda: is one of the most exotic beaches in the north of the island, distinguished from other beaches by the golden colour of the sand and water, which changes shades according to the light and depth. It is a beach for adventurers who are not afraid to walk along the unmarked path or swim from the nearby Binimel-là beach. Here you can enjoy the tranquillity, space and beautiful natural scenery.
Cala Galdana: is one of the most famous and best equipped beaches on the island, shaped like a horseshoe and surrounded by steep cliffs covered in pine trees. It is a beach for families with children who appreciate the fine sand, calm water, showers, sunbeds, umbrellas and various services. You can rent a kayak, pedalo or boat and explore the surrounding bays.
Cala en Porter: is another popular and well-equipped beach in the south of the island, located in a deep bay with white sand and blue water. It is a beach for all types of visitors looking for comfort, fun and safety. Here you can swim, sunbathe, play with the children or visit the famous cave disco Cova d'en Xoroi.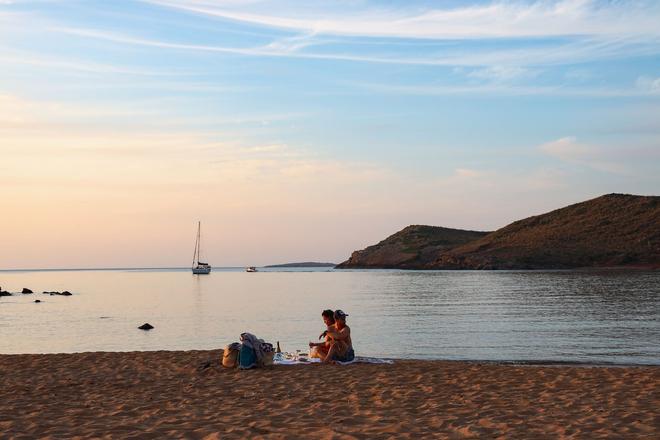 Menorca has a rich and varied gastronomy that reflects its history, geography and culture. Typical products include Mahón cheese, lobster, tomato, potatoes, olives, olive oil, wine and gin. Typical dishes include caldereta de llagosta (lobster pot), sobrassada (spicy sausage), oliaigua (tomato and pepper soup), formatjades (sweet or savoury cakes) and ensaimada (sweet baked strudel). Typical drinks include pomada (gin and lemonade), vi de la terra (wine from the island) and herbes dolces (herbal liqueur). The best restaurants with local cuisine include:
Es Cranc: a family-run restaurant in Fornells that specialises in caldereta de llagosta and other seafood. It is one of the oldest and most prestigious restaurants on the island, and has been visited by King Juan Carlos I and Princess Diana. Here you can enjoy an authentic taste of Menorca in a friendly environment.
Ca n'Aguedet: is a traditional restaurant in Es Mercadal that offers home-cooked meals using local produce. It is one of the most typical and popular restaurants on the island, run by the same family since 1924. Here you can order oliaigua (tomato and pepper soup), formatjades (sweet or savoury pies) or sobrassada (spicy sausage).
Es Moli de Foc: is a stylish restaurant in Sant Climent that offers creative and modern cuisine based on quality ingredients. It is one of the best and most original restaurants on the island, combining traditional recipes with new techniques and flavours. Here you can have, for example, beef carpaccio with Parmesan and rocket, risotto with lobster and saffron or lamb chops with honey and thyme.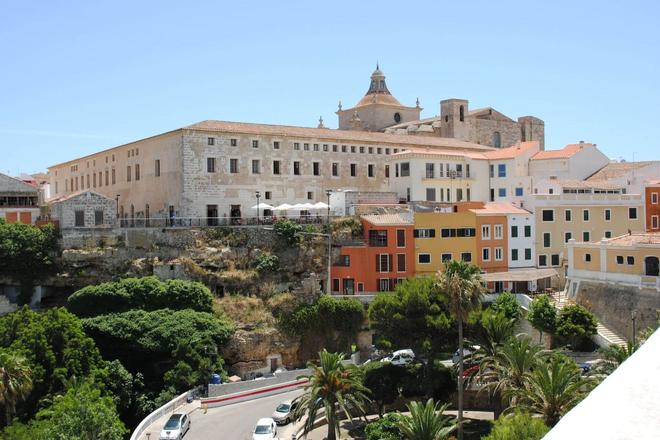 Menorca has a wide range of accommodation for different budgets and preferences. Affordable hotels that offer good value for money include:
Hotel Artiem Capri: a 4-star hotel in Mahón that offers comfortable and modern rooms with Wi-Fi, TV, minibar and air conditioning. It also has a wellness centre with a swimming pool, sauna, jacuzzi and massage. The hotel is centrally located, close to the marina, shops and restaurants.
Hotel Rural Binigaus Vell: a 4-star hotel in Es Migjorn Gran, offering cosy and rustic rooms with Wi-Fi, safe, TV and countryside views. The hotel is housed in a former 18th-century farmhouse that has been renovated with respect to the original architecture. It also has an outdoor pool, garden, restaurant and parking. It is located in a quiet area, close to Binigaus Beach.
Hotel Jeni & Restaurant: a 3-star hotel in Es Mercadal, offering spacious and bright rooms with Wi-Fi, TV, fridge and balcony. You will also find an outdoor pool, terrace, bar and restaurant. The hotel is located in the heart of the city, close to the Sant Marti Church and the market.
Menorca is an island that has a lot to offer for visitors looking for a holiday full of tranquillity, nature and culture. On this island you can enjoy beautiful beaches with clear waters, picturesque villages with white houses, historic towns with a rich past and fascinating monuments from the pre-Columbian era. Menorca is also a paradise for nature lovers and hikers, with many protected areas, trails and viewpoints. Menorca is an island that will enchant you with its beauty, diversity and hospitality.