Istria has been inhabited since prehistoric times, when various tribes such as the Histrians, Illyrians, Celts and Venetians lived here. In the 2nd century BC, Istria was conquered by the Romans, who left many architectural monuments, such as the amphitheatre in Pula and the mosaics in Poreč. After the fall of the Roman Empire, Istria was successively ruled by various powers such as the Byzantines, Langobards, Franks, Venetians, Habsburgs, Napoleon, Austria-Hungary, Italy and Yugoslavia. After World War II, Istria was divided between Yugoslavia and Italy under the 1947 Treaty of Paris. In 1991, Croatia and Slovenia became independent from Yugoslavia and acquired their part of Istria. Today, Istria is a multicultural region where the influences of different peoples and languages mix.
Savudrija is a small resort in the northernmost and westernmost tip of Istria, dominated by a lighthouse from 1818, the oldest on the Adriatic. Visitors will find pleasant rocky and pebbly beaches, clean sea and undisturbed peace.
Umag is a lively town on the northwest coast of Istria with a long history and tradition, where the international tennis tournament Croatia Open is held every year.
Novigrad is an ancient fishing town with a rich history and culture. Novigrad has well-preserved medieval walls, the Gothic Church of St. Pelagia, the Baroque Rigo Palace and the Lapidarium Museum with a valuable collection of stone monuments. You can also visit the aquarium or take a boat trip on the sea.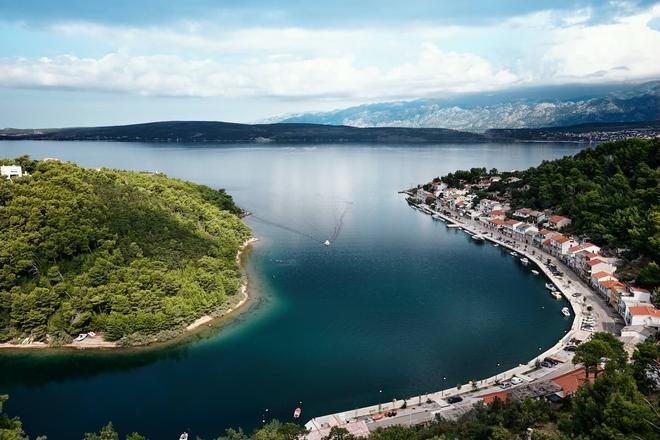 Poreč is one of the most visited places in Istria, with a long history dating back to Roman times. Poreč is especially famous for the Euphrasius Basilica with its magnificent mosaics from the 6th century, which is a UNESCO World Heritage Site. You can also explore the Roman Decumanus Street, the Gothic Town Hall or the Pentagonal Fortress.
Vrsar is a picturesque fishing town with a harbour and marina. In the past, Vrsar was the seat of the bishops of Istria and the love oasis of the famous Giacomo Casanova. You can see the Romanesque church of St. Anthony of Padua with its Renaissance bell tower and enjoy the romantic atmosphere at sunset.
Lima Bay is a nature reserve that stretches from Vrsar to Rovinj. It is a narrow bay that was formed by the flooding of a former river valley. The Gulf of Lima is known for its rich fauna and flora, especially for shellfish and fish farming. You can rent a kayak or boat and explore the bay or visit the cave of Saint Romuald, where he lived as a hermit.
Dvigrad is an abandoned medieval town that sits on top of a hill above the Gulf of Lima. Dvigrad was an important strategic point in the past, but was abandoned in the 17th century due to plague and attacks by the Turks. Today, Dvigrad is an archaeological site where you can see the remains of the castle walls, the church of St. Sophia and the palace.
Rovinj is one of the most picturesque towns in Istria, boasting an ancient historical centre with narrow streets and colourful houses. You can explore the Church of St. Euphemia with its tall stone tower, visit local galleries and museums or stroll along the coastal promenade overlooking the islands.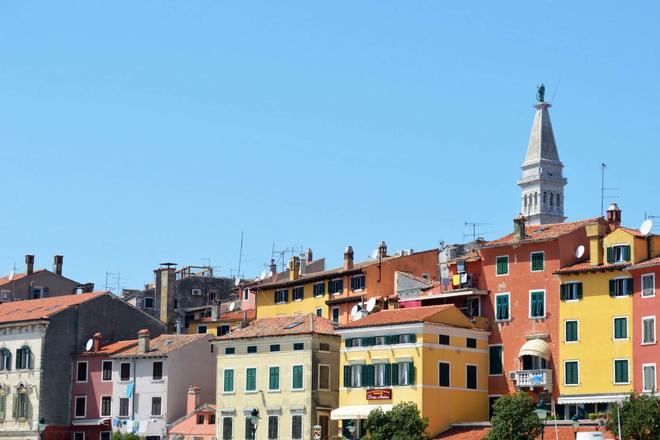 Bale is a medieval town with stone architecture and the 15th-century Soardo-Bembo Castle, surrounded by olive groves and vineyards. A beautiful peaceful town where you can enjoy the medieval architecture.
Vodnjan is the town with the highest bell tower in Istria (62 metres) and the Church of St. Blaise, which houses a collection of mummified bodies of saints and relics. Vodnjan is also the centre of olive oil production in Istria.
Fažana is a picturesque fishing town with a long promenade along the sea and a starting point for visiting Brijuni National Park.
The Brijuni archipelago is a national park consisting of 14 islands and islets with rich flora and fauna. Here you can admire exotic animals such as zebras, elephants or llamas, which were brought here by former Yugoslav President Tito. You can also visit archaeological sites such as a Roman villa or a Byzantine castrum.
The Amphitheatre of Pula is the best preserved Roman amphitheatre in the world, built in the 1st century AD with a capacity for 23,000 spectators. Gladiatorial fights and theatrical performances took place here and today it serves as a cultural and musical venue.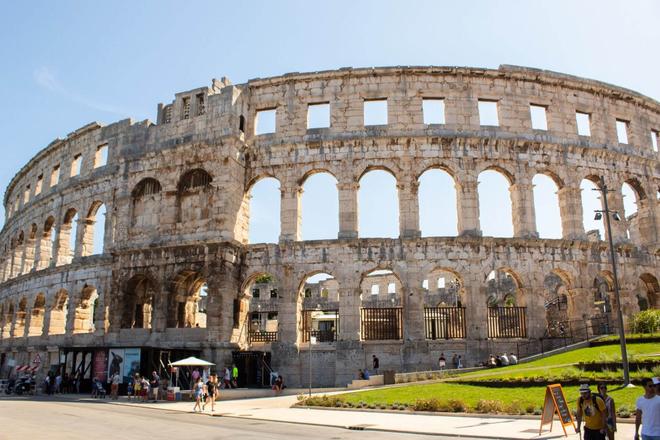 The Temple of Augustus is a well-preserved Roman temple dedicated to the first Roman emperor Augustus, located in Pula's Forum Square.
The Holy Rock of Verudela in Pula, a viewpoint named after a legend that says this site was a church that was destroyed in the middle of a storm, and the place is ideal for enjoying unforgettable sunsets with a companion.  
Premantura is a peninsula at the southern tip of Istria, which is part of the Kamenjak National Park. Kamenjak is a popular place for nature, sports and adrenaline lovers. You can choose from many activities such as cycling, windsurfing, diving or jumping from the rocks into the sea. Kamenjak also has beautiful beaches with clear water and colourful underwater life.
Opatija is one of the oldest and most prestigious resorts on the Adriatic, and was a favourite destination of the Austro-Hungarian aristocracy and European royalty. Opatija has elegant architecture, beautiful parks and a promenade along the sea. You can see the Villa Angiolina, the Church of St. James or the mausoleum of the Kesselstatt family.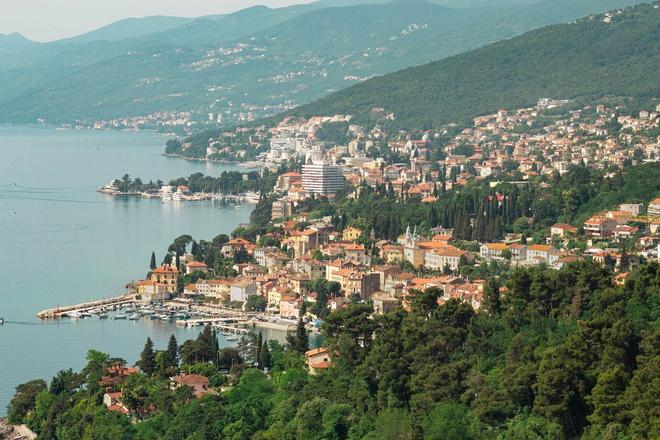 Lovran has a picturesque historic centre with narrow streets, stone houses and churches. You can visit the Church of the Holy Trinity, a small 13th-century church with murals, or the Atelier & Gallery IVAN PESSI, where you can see or buy original works of art.
National park in the Učka mountains, which tower over Opatija and Lovran. The park offers many opportunities for hiking, cycling, climbing or paragliding. You can enjoy a magnificent view of Kvarner Bay, Istria and even the Alps in clear weather.
The viewpoint Plomin on the east coast of Istria, which offers a beautiful view of Kvarner Bay.
Labin is a historic town on the east coast of Istria, which was the centre of mining and coal mining. Labin has preserved medieval walls, palaces and churches with valuable works of art. You can visit the mining museum, the Matije Vlačič Ilirika gallery or the Fortica lookout tower overlooking the resort of Rabac.
Rabac is a modern tourist resort with beautiful beaches and clean sea. It is an ideal place for relaxation, sports and entertainment. You can swim, dive, surf or rent a boat and explore the surrounding bays. Rabac also offers a rich cultural and gastronomic programme.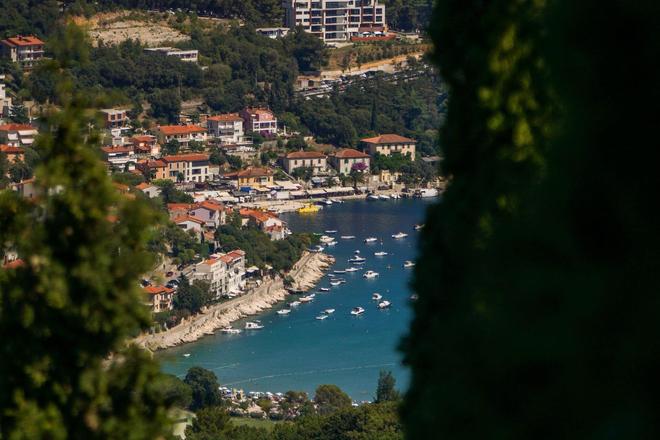 Pazin is the administrative centre of Istria, situated above the Pazinčica Abyss, where the river disappears into underground caves. Pazin is also known as the inspiration for the writer Jules Verne, who set his novel Matthias Sandorf here. In Pazin you can visit the 10th century castle or the Pazin Museum.
Zarečki Krov Waterfalls is a picturesque spot by the Pazinčica River with a beautiful waterfall and a natural pool where you can refresh yourself.
Motovun is another of the picturesque hilltop towns that offers spectacular views of the surrounding countryside. Motovun is also known as the city of giants, as legend has it that the giant king Veli Jože lived here. An international film festival is held here every year, attracting many film fans and celebrities.
Oprtalj is a small town on a high hill (378 metres above sea level) near Motovun and Livade, offering an impressive view of forests, vineyards and olive groves and other agricultural crops typical of the region.
Grožnjan is a city of artists, full of galleries, studios and musical events. In the past Grožnjan was an abandoned town, but in 1965 it was revived by a group of painters, sculptors and musicians who found inspiration and refuge here. In the summer, various cultural festivals such as Ex Tempore and Jazz is Back are held here.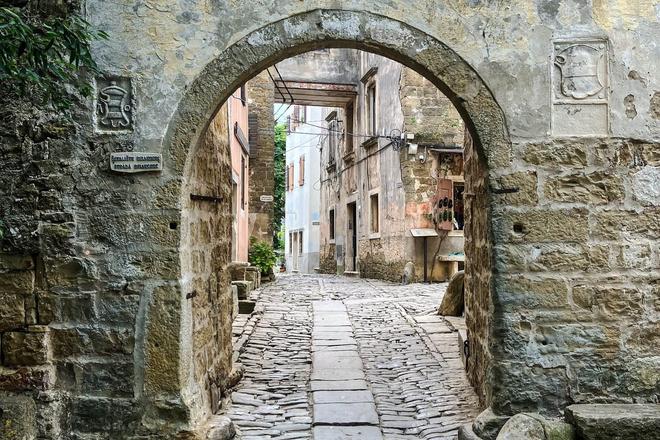 Hum is the smallest town in the world with only 20 inhabitants, located in the interior of Istria and is known as a centre of Glagolitic culture.
Svetvinčenat is a small town in central Istria, known for its Renaissance square with a fountain and loggia. Svetvinčenat is also the seat of Morosini-Grimani Castle, which was built in the 13th century and later rebuilt in the 16th century. The castle serves as a cultural and tourist centre, hosting events such as the Festival of Dancing Fairies and the Festival of Medieval Games.
Istria is a paradise for gourmets who want to enjoy traditional dishes made with local ingredients. Istria is famous for its production of wine, olive oil and truffles, which are considered delicacies. Here are some of the typical Istrian specialities:
Fuži with truffles is a homemade pasta in the shape of a screw, served with a buttery truffle sauce. Truffles are aromatic mushrooms that grow underground and are sought out by dogs or pigs. Truffles are very expensive and prized for their intense flavour and aroma. Both white and black truffles are found in Istria and are harvested at different times of the year. Truffles are used as a flavouring or as the main ingredient in various dishes.
Ombolo is a slice of pork off the bone, gently smoked and roasted over hot coals. Ombolo is a typical Istrian speciality served with sauerkraut or salad.
Goat's cheese with truffles is another delicious dish from Istrian cuisine, combining quality goat's cheese with sliced truffles. This cheese goes best with Istrian white wine Malvazija.
Black risotto is a typical dish of all Croatian restaurants, served with seafood and stained with cuttlefish ink. Black risotto is an excellent choice for seafood and fish lovers.
Štrukli are puff pastry pies filled with all sorts of things and can be eaten savoury or sweet. Štrukli is a traditional dish from the Zagorje region of Croatia, which borders Istria. In Istria they are often served as a dessert or as a light meal.
Wine is one of the oldest and most important products of Istria, with a long tradition and quality. Istria has ideal conditions for growing grapes, such as sunny weather, calcareous soil and sea influence. Different grape varieties are grown in Istria, such as malvazija, teran, muscat and refosk. Wine is produced in small family wineries, but also in large modern enterprises.
Olive oil is another typical product of Istria, known for its high quality and health benefits. Olive oil has been produced here since ancient times and is part of the daily diet. The local farms often specialise in premium olive oil from the October harvest and some of them are among the world's best. One of them is Chiavalon in the town of Vodnjan, where you can stop for a tasting and see their modern mill.
Istria is a region with many faces worth exploring. It is a place with a rich history, beautiful nature, a varied cultural heritage and excellent gastronomy. From sunny beaches and underwater adventures to picturesque villages and mountain trails, Istria is a great choice for a holiday that offers something for everyone. We hope this article has helped you get to know the Istrian region better and inspired you to visit.