North Greece and Greece – West Coast are beautiful regions that we recommend for your perfect holiday. Resorts in northern and western Greece offer a range of experiences, from vibrant nightlife and water sports to tranquil beaches and historical attractions. Get ready for a holiday full of sun, relaxation, wonderfully clear sea, ancient monuments, adventure and delicious food –⁠ these regions have something to offer to any types of travelers. Travel with us and read our useful Sunheron tips! (We will focus on popular Greek islands in the Aegean Sea in detail in the next article.)
The best time to visit largely depends on your preferences and the activities you plan to engage in. Northern and western Greece experience a Mediterranean climate, with hot summers and mild, wet winters. If you prefer warm weather and want to enjoy outdoor activities like swimming and sunbathing, the best time to visit is from May to September when the average temperature ranges from 25 to 30 °C, with very few rainy days. Night temperatures usually drop to a pleasant 18 to 22 °C. The peak tourist season in northern and western Greece is during the summer months of July and August. These months attract a large amount of tourists. So if you prefer to avoid the crowds, it's advisable to visit in the shoulder seasons of spring (April to June) or fall (September to October) when the weather is pleasant, and the tourist numbers are lower.
Overall, the best time to visit northern and western Greece is during the summer months for beach-related activities and the shoulder seasons of spring and fall for a combination of pleasant weather, fewer crowds, and opportunities to engage in various activities.
Aside from wonderful beach holidays with swimming and water sports, northern and western Greece offer various outdoor activities such as hiking, exploring national parks, and visiting archaeological sites. Spring and early autumn are excellent times for outdoor activities when the weather is mild and the landscapes are green and vibrant. If you plan to visit historical sites, museums, and cultural attractions, keep in mind that they are generally open year-round. However, it's best to visit during the shoulder seasons when the weather is pleasant, and there are fewer crowds.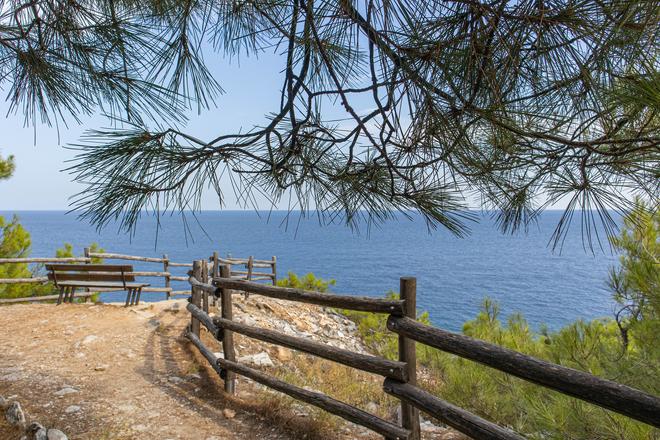 Of course! Northern Greece has a lot to offer for those looking for a unique and authentic Greek experience. Thessaloniki, Greece's second-largest city, is a must-see destination. The city's vibrant history is reflected in its architecture, museums, and archaeological sites, e.g. The White Tower is a famous landmark in Thessaloniki and a symbol of the city. It was built in the 15th century and is now a museum that showcases the city's history. Definitely don't miss Aristotelous Square. The largest and most popular square in Thessaloniki, surrounded by shops, cafes, and restaurants. It's a great place to people-watch and soak up the city's vibe. If you're heading here for fun enjoy the city's vibrant nightlife and sample traditional Greek cuisine. From Thessaloniki we move east to the island of Thasos.
Another place in northern Greece that we will gladly recommend to you is Thasos, an island located in the northern Aegean Sea. Thasos is famous for its stunning beaches, rich history, and picturesque villages. Golden Beach is one of the most popular and beautiful beaches on Thasos located on the east coast of the island. It features golden sand and crystal-clear water. One of the island's most significant historical sites is the Ancient Theater, built in the 5th century BC and located near the village of Limenas (admission is free). The Theater could seat up to 3,000 spectators. Today, you can explore the ruins of the theater and imagine what it must have been like to attend a performance there. Thassos is dotted with charming traditional villages that offer a glimpse into the island's authentic culture and lifestyle. The village of Theologos is known for its traditional architecture and stone houses, while Panagia is famous for its picturesque streets and stunning views.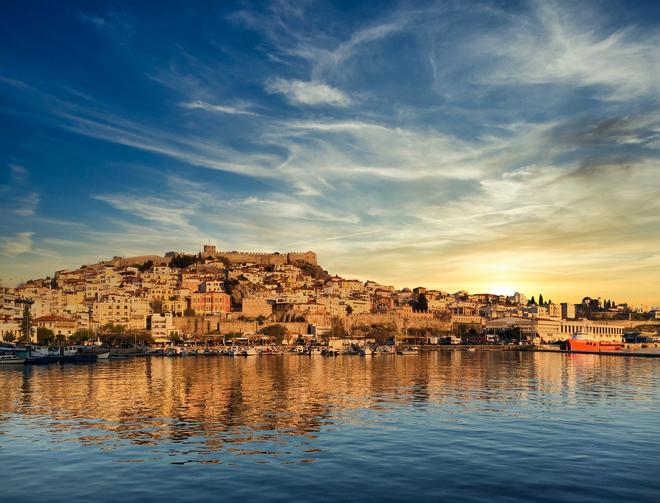 Before we leave northern Greece, we have some more tips for you. Kavala, a coastal city, is known for its vibrant cultural scene and fascinating history. When you're not relaxing on one of the beautiful beaches located just a short drive away from the city center such as Batis, Rapsani, or Tosca, we recommend to explore Kavala's charming and picturesque Old Town with narrow streets, traditional houses, and stunning architecture. Lets go and explore the area below the highest mountain of Greece. To do that, we have to move about 250 km to the southwest to a town called Leptokaryá.
Mount Olympus (Mytikas peak) with its height of 2917 meters is the highest mountain in Greece and is considered to be the home of the Greek gods. Our last tip from northern Greece is the charming seaside town Leptokaryá, located in the foothills of Mount Olympus. The Mount Olympus National Park is a UNESCO World Heritage Site and a paradise for hikers, climbers, and nature lovers. The park is home to rich flora and fauna, including rare species of plants, birds, and animals. When you're here, go to explore the park's many trails, waterfalls, and peaks, and experience the breathtaking beauty of this majestic mountain.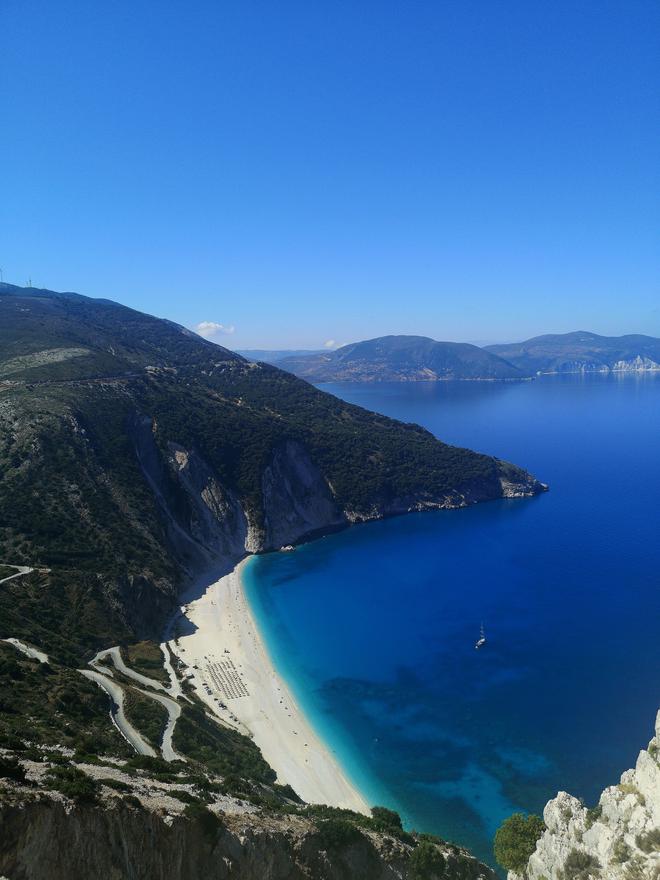 Among the most famous islands of the west coast of Greece are: Kerkira (Corfu), Zakynthos, Kefalonia, Lefkada and Itháki. We begin our journey through the islands off the west coast of greece in Kerkira, Corfu.
When visiting Corfu (Kerkira), there are numerous attractions and activities to explore. Here are our Sunheron top tips on what to see and do in Corfu. Start your visit by exploring the charming capital city of Corfu, known as Corfu Town or Kerkyra. This UNESCO World Heritage site offers a blend of Venetian, French, and British influences in its architecture and design. You can admire the pastel-colored buildings and beautiful Venetian-style mansions. Don't miss the Liston, a beautiful promenade lined with cafes and shops, and visit the impressive Old Fortress for panoramic views of the city and the sea.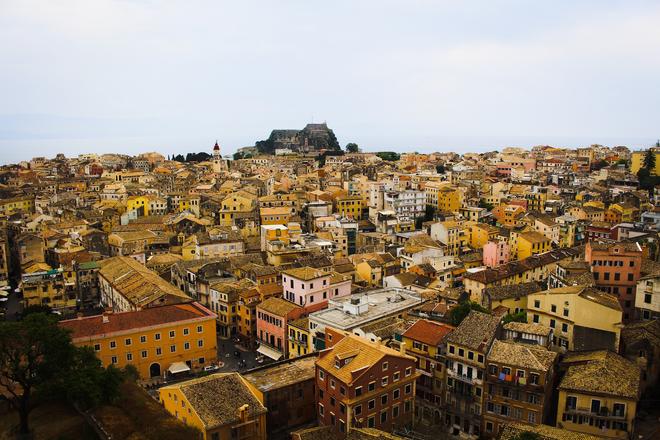 Visit Paleokastritsa, a picturesque coastal village located on the western coast of Corfu. It is famous for its stunning landscapes, crystal-clear waters, and beautiful beaches. Take a boat tour to explore the sea caves and visit the secluded beaches accessible only by boat. Don't miss the opportunity to visit the Paleokastritsa Monastery, perched on a hilltop with breathtaking views of the area. The monastery houses a small museum and offers a peaceful and serene atmosphere.
Kávos, located on the southern tip of Kerkira (Corfu), is a popular destination for younger travelers looking for a lively party scene. Kavos offers a variety of boat parties and excursions for those seeking a unique experience. Boat parties often include music, drinks, and entertainment, creating a festive atmosphere while cruising the Ionian Sea. From the southernmost point of Corfu it is time to move south to the island of Lefkada.
We will introduce you to the best beaches of Lefkada located on the west coast of the island: Porto Katsiki, Egremni Beach and Kathisma Beach.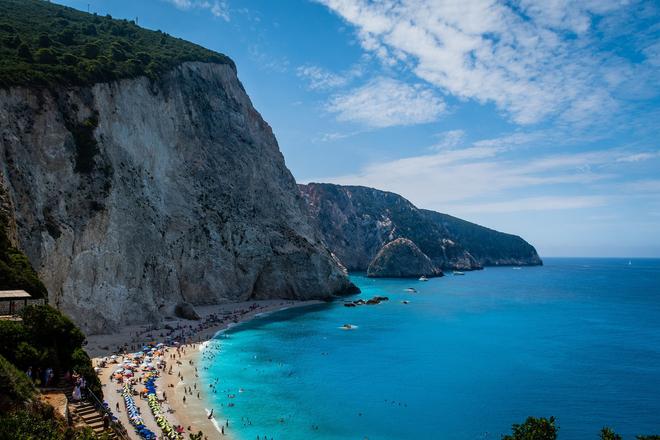 Porto Katsiki is perhaps the most famous beach on Lefkada and is often listed among the top beaches in Greece. It is located on the southwestern coast of the island and is known for its dramatic cliff backdrop, crystal-clear turquoise waters, and pristine white sand. The beach is accessible via a long staircase, and it offers breathtaking views and a stunning natural setting. Egremni Beach, situated quite near Porto Katsiki, is another remarkable beach known for its beauty. It features a long stretch of golden sand and mesmerizing blue waters. Like Porto Katsiki, Egremni Beach is set against steep cliffs, and it requires descending a significant number of steps to reach the shore. Due to the devastating earthquake in 2015, access to Egremni Beach has become more limited, but it is still worth mentioning for its striking natural appeal.
Located on the western coast of Lefkada, Kathisma Beach is a popular choice for beach lovers. It offers a long, wide strip of golden sand and is backed by impressive cliffs. The beach provides facilities such as sunbeds, umbrellas, beach bars, and tavernas, making it a comfortable and convenient option for visitors.
Overall, while visiting Lefkada, enjoy stunning beaches and a range of water sports, including kite-surfing and windsurfing. Visit Nydri, a popular tourist destination on the east coast of Lefkada to experience its vibrant nightlife.
Now, on our journey along the west coast of Greece, we move a little further south to Zakynthos.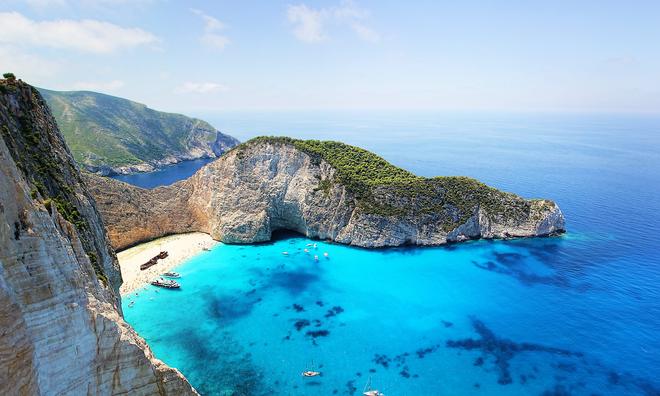 Zakynthos is best known for several key features and attractions. We must mention in particular: Navagio Beach (Shipwreck Beach), Loggerhead Sea Turtles and Blue Caves.
Navagio Beach is an iconic and breathtaking sight that attracts visitors from around the world. It is famous for its white sandy beach, crystal-clear turquoise waters, and the wrecked ship that rests on the shore. The beach is accessible by boat, and many tours offer the opportunity to swim and explore the shipwreck up close. Navagio Beach is not only famous for its stunning beauty but also serves as a nesting site for loggerhead sea turtles. The beach is a protected area, and during the nesting season, from May to October, it is monitored to ensure the safety of the turtle nests.
Zakynthos is well-known for its population of loggerhead sea turtles (Caretta caretta), which nest on the island's beaches. We have already mentioned Navagio Beach (Shipwreck Beach) as a nesting site for loggerhead sea turtles. Another important nesting area is Laganas Bay, located on the southern coast of Zakynthos. The bay is part of the National Marine Park of Zakynthos, established to protect the nesting sites and the marine environment.
Visitors to Laganas Bay may have the opportunity to witness the turtles in their natural habitat. There are various turtle spotting excursions and boat trips offered in Zakynthos that allow visitors to observe the turtles in their natural environment. These guided tours usually take visitors to the prime turtle nesting sites and offer educational information about the turtles and their conservation. It's important to note that the loggerhead sea turtles are a protected species, and their conservation is of utmost importance.
The Blue Caves, located along the northern coast of Zakynthos, are a unique geological formation and a popular attraction that shouldn't be missed. These impressive sea caves are known for their vibrant blue waters created by the reflection of sunlight on the limestone walls. Take a boat tour to explore the caves, marvel at the dazzling blue hues, and even go for a refreshing swim in the crystal-clear waters.
In conclusion, North Greece and Greece – West Coast are perfect holiday regions, with their stunning beaches, crystal-clear waters, and rich cultural heritage. Whether you're looking for a tranquil and secluded holiday or a vibrant and cosmopolitan atmosphere, both of these Greek areas have something to offer for everyone. With its warm Mediterranean climate, delicious cuisine, and friendly locals, northern and western parts of Greece are sure to provide a memorable holiday experience. So, pack your bags and get ready to explore the beauty of Greece with Sunheron.com!