When you say Caribbean, many people think of white sandy beaches with palm trees, clear blue seas and drinks with a drop of Caribbean rum on one of the islands. Others get goosebumps when they think of hurricanes and the mysterious Bermuda Triangle. There's no need to worry, the Caribbean islands and Central American countries are truly an exotic paradise. If you plan your holiday carefully, for example using our Sunheron.com web app, you can't go wrong when choosing the right destination. In today's article, we'll be heading to the Caribbean and Central America. This is the region that could be absolutely perfect for your February vacation.
We'll focus on the Lesser and Greater Antilles, which includes all the Caribbean islands, and also the Central American region. This includes countries starting from Mexico in the north to Panama in the south. These countries lie in a tropical climate zone and alternating rainy seasons (May-October) and dry seasons (November-February) are typical there. The eastern coast of Central America is characterised by higher rainfall, while the area along the Pacific coast tends to be drier.
What about tropical storms and hurricanes in the Caribbean? The season with frequent occurrence of these tropical cyclones is reported to be from early June to late November. It usually peaks in August when the weather can be really unpredictable. Then, in the Caribbean, the aforementioned dry season sets in from November until about April, when you can also enjoy ideal conditions for your holiday. Swap the cold and gloom for pleasant warmth and sunshine and head to the Caribbean in winter. There are no hurricanes to worry about at this time of year and nothing can really spoil your holiday. Expect temperatures in the 30 °C range and sea temperatures even reaching over 25 °C.
Costa Rica is rightly a very popular tourist destination. If you go on holiday here in February, you can expect air temperatures of around 30 °C and very little chance of getting wet. February is the driest month of the year in Costa Rica. On average, it rains 4 times a month with a total rainfall of around 30 mm. The name Costa Rica literally means "rich coast". This republic really lives up to its name and will delight you with its untouched and very diverse nature, including rainforests, volcanoes, thermal springs and perfect beaches. Along the Pacific coast lies Uvita Beach in the Marino Ballena National Park. Whale and dolphin watching trips are organised from here, where you can see, for example, humpback whales. In Uvita you can walk along the "whale tail", a natural formation created by the activity of two sea currents that meet and deposit sediment and sand onto the rock. The whale tail shaped sand spit can be seen at low tide. Snorkelling and diving are also popular activities in Uvita.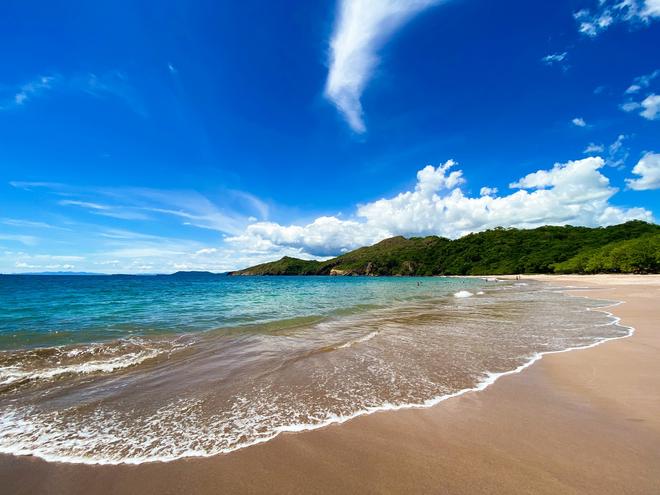 Do you also want to explore the Costa Rican interior? The La Fortuna area, just 2 hours from the capital San José, should definitely interest you. It's a place full of waterfalls, rainforests and thermal springs, and the perfect place for an adventurous holiday. Outdoor activities such as rafting, horseback riding, ziplining, tubing or canyoning must be experienced right here. It will all take place under the backdrop of the majestic Arenal Volcano. Enjoy the picturesque views of this volcano from Costa Rica's largest lake of the same name.
The Dominican Republic is synonymous with tropical paradise and attracts mainly visitors looking for a relaxing vacation and families with children. The tourist infrastructure in the form of luxury resorts offering quality accommodation and all-inclusive dining is of a high standard. You can enjoy your undisturbed holiday with a glass of local rum mixed drink on the white beach under the palm trees. The sea is pleasantly warm in February with temperatures of up to 25 °C. The most famous resorts are Punta Cana in the east, Bayahibe or La Romana in the south. From the resorts you can head to the island of Saona with its beautiful beaches. Set aside a full day for the trip and be sure to pack a snorkel. In the Dominican Republic, in addition to coffee, cigars and rum, try the national dish La Bandera Dominicana, which translates to "Dominican Flag" as the ingredients match the colours of the Dominican national flag. It is a beef stew with rice and red beans.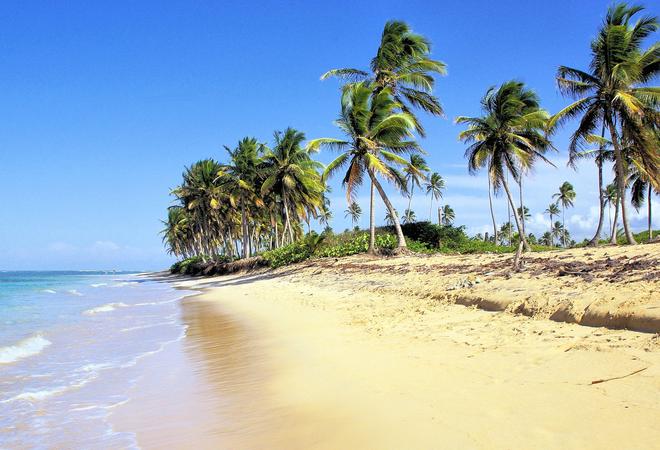 If you want to explore more of the Dominican Republic's mountainous interior and nature, take a trip to the area around Jarabacoa. Popular destinations include the natural cascades of local waterfalls, such as Baiguate waterfall, which is surrounded by beautiful mountain scenery. Hiking enthusiasts won't miss out either. Not far from here is Pico Duarte, which is with its height of 3,101 m, the highest mountain in the Dominican Republic and all the Caribbean islands.
Jamaica means an exotic holiday with reggae rhythms, lots of fun and sea pleasures. February is the best month to go to Jamaica. Warm up with daytime temperatures of around 28 °C and Caribbean Sea temperatures reaching up to 25 °C. You definitely shouldn't get wet, as it only rains lightly on average five times a month. Montego Bay, the most visited resort off the northwest coast of Jamaica, is lined with an extensive sandy beach and offers excellent tourist services. The range of activities on offer here is truly wide. Golf, water sports and glass-bottom boat trips over coral reefs rich in underwater fauna are popular. In the town of Montego Bay itself, it's alive. In its northern part you must visit the main tourist centre, lined with bars with live music and discos where you can dance until dawn. And it goes without saying, don't forget to try the famous Jamaican rum.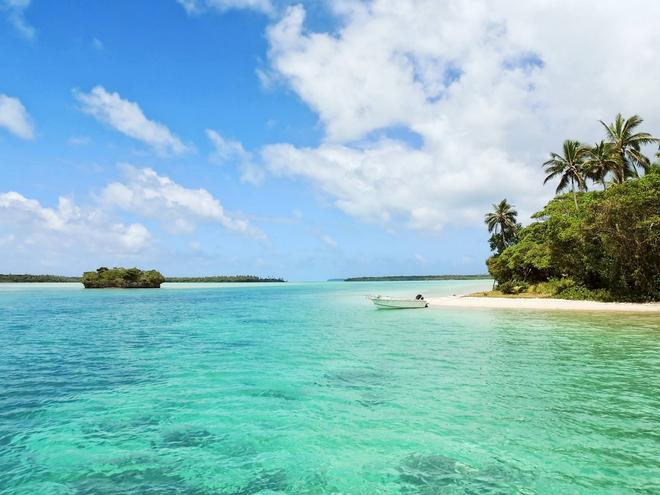 The town of Ocho Rios is another famous Jamaican resort. You definitely won't be bored here. Just 16 kilometres away is the famous James Bond Beach, well-known for the filming of the iconic Agent 007 movies as well as hosting numerous cultural events and concerts by international artists. Nearby Ocho Rios, in Dunn's River Falls Nature Park, you can admire the limestone cascading waterfalls that plunge into the sea. Inland, Jamaica's Blue Mountains National Park attracts the more adventurous visitors with its jungle treks and majestic mountains, where the famous Blue Mountain coffee is grown at higher elevations.
Our secret Caribbean tip is the island of Guadeloupe in the Lesser Antilles. The island, also called "pineapple" because of the origin and cultivation of this juicy delicacy, is an overseas department of France. For visitors, this means many advantages, such as good accessibility with direct flights from Paris and payment in Euros. February is sunny in Guadeloupe and is one of the driest months of the year, along with March. Still, there's a chance that the rain will cool you down a bit, which may not be a bad thing at all with average temperatures around 28 °C. From an aerial perspective, Guadeloupe, which resembles a green butterfly with outstretched wings in colour and shape, is home to stunning beaches, exotic wildlife and the active volcano La Soufriére. The town of Deshaies, in the north-west, is home to the most beautiful beaches ever, with golden sands and azure blue seas. If you're interested in Caribbean flora, don't miss the renowned local botanical garden.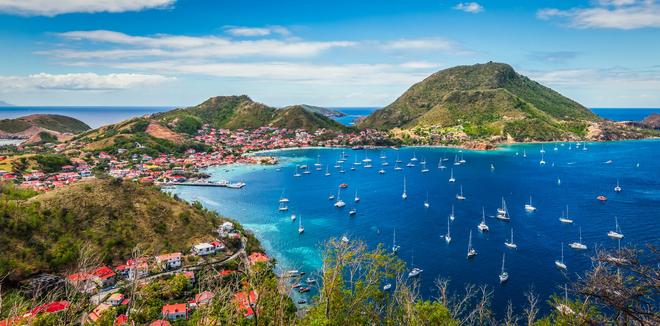 If you head south from Deshaies you'll reach another popular beach resort, Bouillante. You might prefer to sunbathe and enjoy the beach bars, where they mix up delicious Caribbean rum drinks, or spice up your visit with a trip to the nearby Zoo de Guadeloupe au Parc des Mamelles. Here you'll find yourself in the heart of the rainforest, admiring monkeys, lizards, parrots and jaguars. A walk along the footbridges in the treetops suspended 20 metres high can become an unforgettable experience.
Another popular destination for a relaxing beach holiday in the shade of palm trees is Le Gosier, close to the airport. Alternate relaxation with active pursuits such as snorkelling, or water sports such as the very popular kitesurfing. When you go to the local market in Guadeloupe, be sure to look out for a natural aphrodisiac in the form of a solution called "bois bande", a popular souvenir from local herbalists.
Cuba is rightly known as the "Pearl of the Caribbean". It is a country of friendly people, cultural sites, beautiful nature and stunning beaches. We will focus on the western part of this republic. In the capital, Havana, you will be surprised by the exceptionally beautiful historic centre with its colonial buildings. Of course, you'll come across plenty of historic cars and numerous bars full of rum-scented mixed drinks. A real Cuban cigar is best enjoyed in the Cuban capital.
The city of Trinidad, located on the southern coast of Cuba, will give you an old Spanish colonial atmosphere. There are well-preserved colonial palaces and you'll be able to wander the winding cobbled streets. Trinidad has been a UNESCO World Heritage Site since 1988. It's not far from the sea, so after a day of exploring the city, you can take a well-deserved break on nearby Playa Ancón, the best beach on Cuba's southern coast. This four-kilometre-long, white-sand beach stretches along a narrow strip of land near the town of Casilda.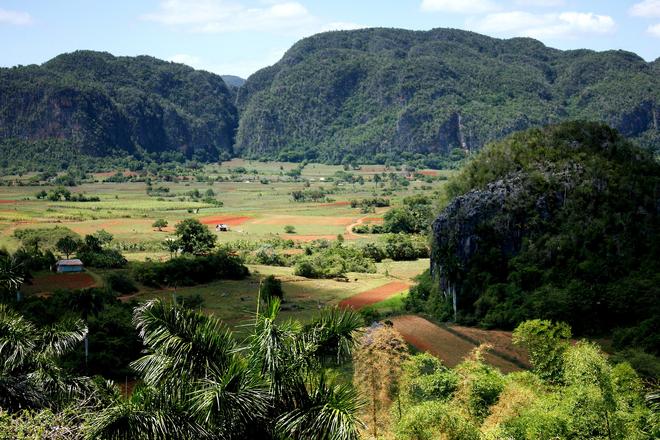 On your Cuban wanderings, don't miss the beautiful Viñales Valley, about 150 km southwest of Havana. You'll see some of Cuba's most beautiful scenery, full of limestone hills, the so-called mogotes, and tobacco plantations, which have earned this place a UNESCO World Heritage Site status.
Varadero is Cuba's most famous and extensive beach resort. It is situated on the narrow Hicacos peninsula, with a total length of about 20 kilometres. The local long beach is very popular for its fine sand and gentle slope. Both sunbathers and water lovers will find their place here, as well as families with children or water sports enthusiasts. There are many types of accommodation to choose from, from modern hotel complexes to cosy family-run guesthouses. Have we convinced you to choose Western Cuba for your holiday? If you're still hesitating, you'll definitely be tempted to holiday in Cuba by the stable weather that prevails in February. Air temperatures rarely drop below 28 °C and the sea temperature is around a perfect 25 °C. You don't need to pack an umbrella, because the chances of getting wet in February in Cuba are really low.