Ibiza has a long and interesting history that dates back to the 7th century BC, when the island was settled by Phoenician colonists. They founded the port of Ibossim (today's Ibiza Town) and worshipped the god Besa. Later the island was conquered by the Carthaginians, Romans, Vandals, Byzantines, Arabs and Catalans. In 1235, Ibiza was conquered by King James I of Aragon, who incorporated it into the Crown of Aragon. In the 16th century, massive walls were built around the old town of Dalt Vila to protect the inhabitants from pirate raids. In the 18th and 19th centuries, Ibiza was part of the Spanish Empire and experienced economic development thanks to the salt and wine trade. In the 20th century, Ibiza became a popular destination for artists, hippies and tourists seeking an alternative lifestyle and freedom.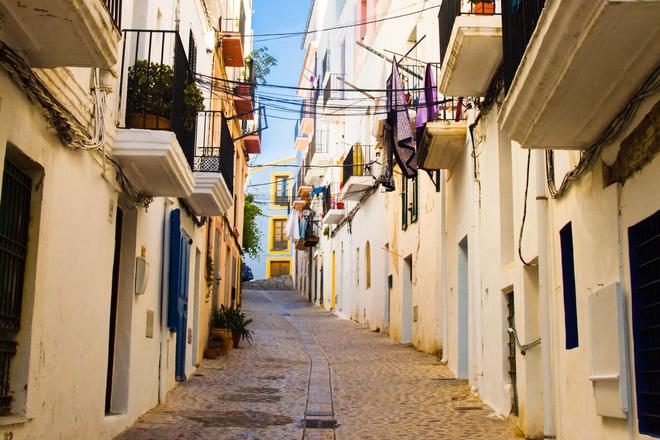 Ibiza has many beautiful and interesting places to visit. We have selected the most interesting ones for you:
Dalt Vila: the historic centre of Ibiza Town, a UNESCO World Heritage Site. You can wander through the narrow streets, admire the ancient churches, palaces and museums, and climb the walls and bastions for a magnificent view of the sea and the surrounding area.
Platja de Ses Salines: one of the best beaches in Ibiza, with white sand, clear water and surrounded by dunes and pine trees. It is the ideal place to relax, sunbathe or swim. There are also several bars and restaurants on the beach where you can have a snack or a drink.
Es Vedrà: a small island near the south-western tip of Ibiza, considered one of the most beautiful views in the Balearic archipelago. Es Vedrà juts out of the sea like a huge rock and is shrouded in many legends and mystique. Some claim that it is a remnant of the mythical Atlantis or that it is the magnetic centre of the Earth.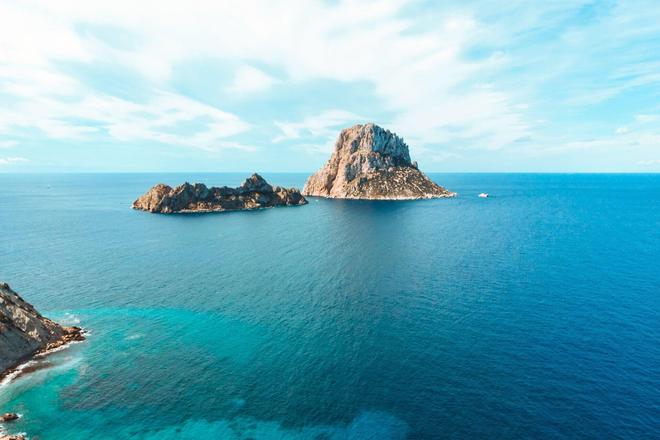 Platges de Comte: a group of three small coves with fine sand and turquoise water, ideal for snorkelling or watching the sunset. The beaches also offer a beautiful view of the islets of S'Espartar and Illa des Bosc.
Stonehenge: Ibiza's newest attraction is a stunning aerial monument on a cliff, dubbed Stonehenge by the locals. It is a semi-circle of 13 basalt columns created by British artist Andrew Rogers as a symbol of peace and harmony.
Ibiza is renowned for its club and disco scene, offering an unforgettable experience for dance music lovers. Every summer, the world's best DJs (David Guetta, Sven Väth, Armin van Buuren, etc.) converge on the island to get the crowd moving on the dancefloors or in the open air. Ibiza's most famous clubs include:
Pacha: a legendary club in Ibiza Town that has been operating since 1973 and is known for its cherry logo and luxurious interior. Pacha hosts different styles of music from house to techno or pop.
Amnesia: a huge club in San Rafael that has two main dance floors (Main Room and Terrace) and a capacity for more than 5,000 people. Amnesia is home to famous parties like Cocoon and Cream.
Ushuaïa: a modern hotel and club in Playa d'en Bossa that offers day and night outdoor events with a spectacular stage, fireworks and laser show. Ushuaïa attracts stars such as Calvin Harris and Martin Garrix.
DC10: an underground club near the airport known for its minimalist decor and authentic atmosphere. DC10 is the place to be for fans of techno music and Circoloco parties.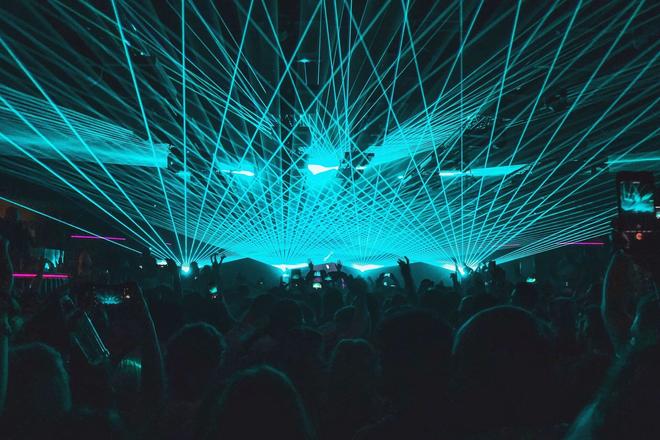 Ibiza also has a rich cultural life that manifests itself in various holidays and festivals throughout the year. Among the most famous are:
Eivissa Medieval: a medieval festival in Dalt Vila (the old town of Ibiza), held annually in early May to mark the anniversary of the town's inscription on the UNESCO World Heritage List. During the festival you can step back in time and see various stalls, craftsmen, artists, musicians, dancers and theatrical performances in period costumes.
Ibiza International Movie Festival: a film festival held every year in mid-May in various cinemas and cultural centres in Ibiza. The festival offers a wide range of films from different genres and countries, as well as workshops, debates and meetings with directors and actors.
Traditional Folklore Dance: the traditional ball pagès dance, which is typical of Ibiza and Formentera. It is a dance full of symbolism and elegance, danced in pairs or groups. The dance is usually performed during holidays or festivities in the countryside or in towns. It can be seen, for example, on the feast of Sant Joan (24 June) or Sant Ciriac (8 August).
Dia del Carmen: the feast of the patron saint of fishermen and sailors, which takes place on 16 July in Ibiza. During this time there are processions of boats decorated with flowers and flags that sail along the coast and bless the sea. Markets, concerts and fireworks displays are also held on the seafront.
Festival of Dreams of Freedom: a festival of music, art and gastronomy held annually at the end of June in Ibiza Town. The festival celebrates the freedom, creativity and diversity of the island and offers different styles of music. The festival also features local and international artists dedicated to painting, sculpture, photography and graffiti.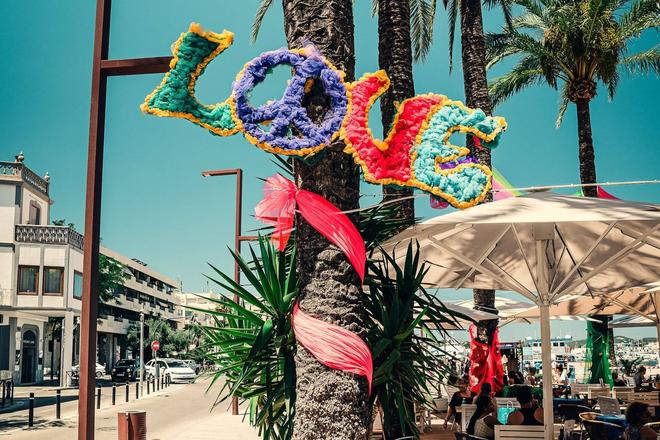 Ibiza also has its own cuisine, which is influenced by Mediterranean and Arabic influences. Typical dishes include:
Bullit de peix: fish stew with potatoes, onions, tomatoes and peppers, served with arroç and banda (rice cooked in fish stock) and alioli (garlic sauce).
Sofrit pagès: a mixture of pork, chicken, liver, potatoes, onions, garlic, saffron and herbs, served with bread or rice.
Flaó: a sweet cake made with sheep's or goat's cheese, egg, sugar, mint and aniseed.
Hierbas ibicencas: a liqueur of herbs such as thyme, rosemary, mint or fennel, drunk as a digestif after a meal.
Ibiza is an island full of contrasts and possibilities for everyone. Whether you're looking for relaxation on the beach, fun in the clubs, culture in the historical sites or nature in the national parks, you'll find it in Ibiza. Ibiza is also an island with a friendly and open atmosphere, where you can meet people from all over the world and share your interests and experiences with them. The island will enchant you with its beauty and energy and you will surely fall in love with it.